Starting a new school year is the perfect time to plan for your yearbook. With some preparation, you can create a yearbook that your students and community will cherish for years.
Here are 10 things you need to do to get started:
1. Gather the team. The first step is to recruit a team of dedicated staff members. This will include photographers, writers, designers, and editors. If you need more help, look for volunteer freelancers to help with specific tasks.
Pro tip: Check out our staff recruiting, development, and training resources available at StudioBalfour.com. Click on the "Dashboard" tab, then click on the "Start Here" banner to access these resources.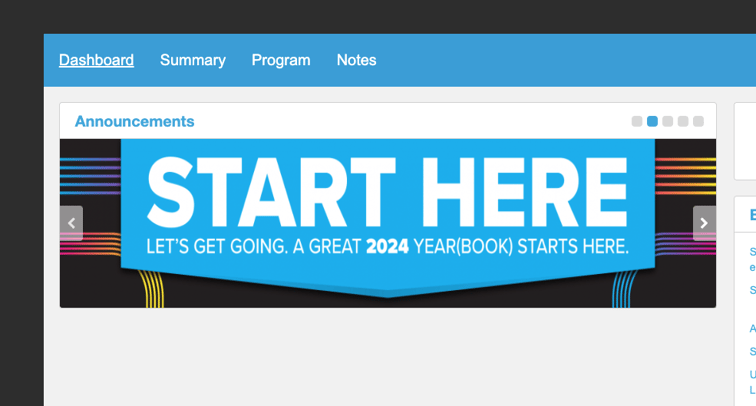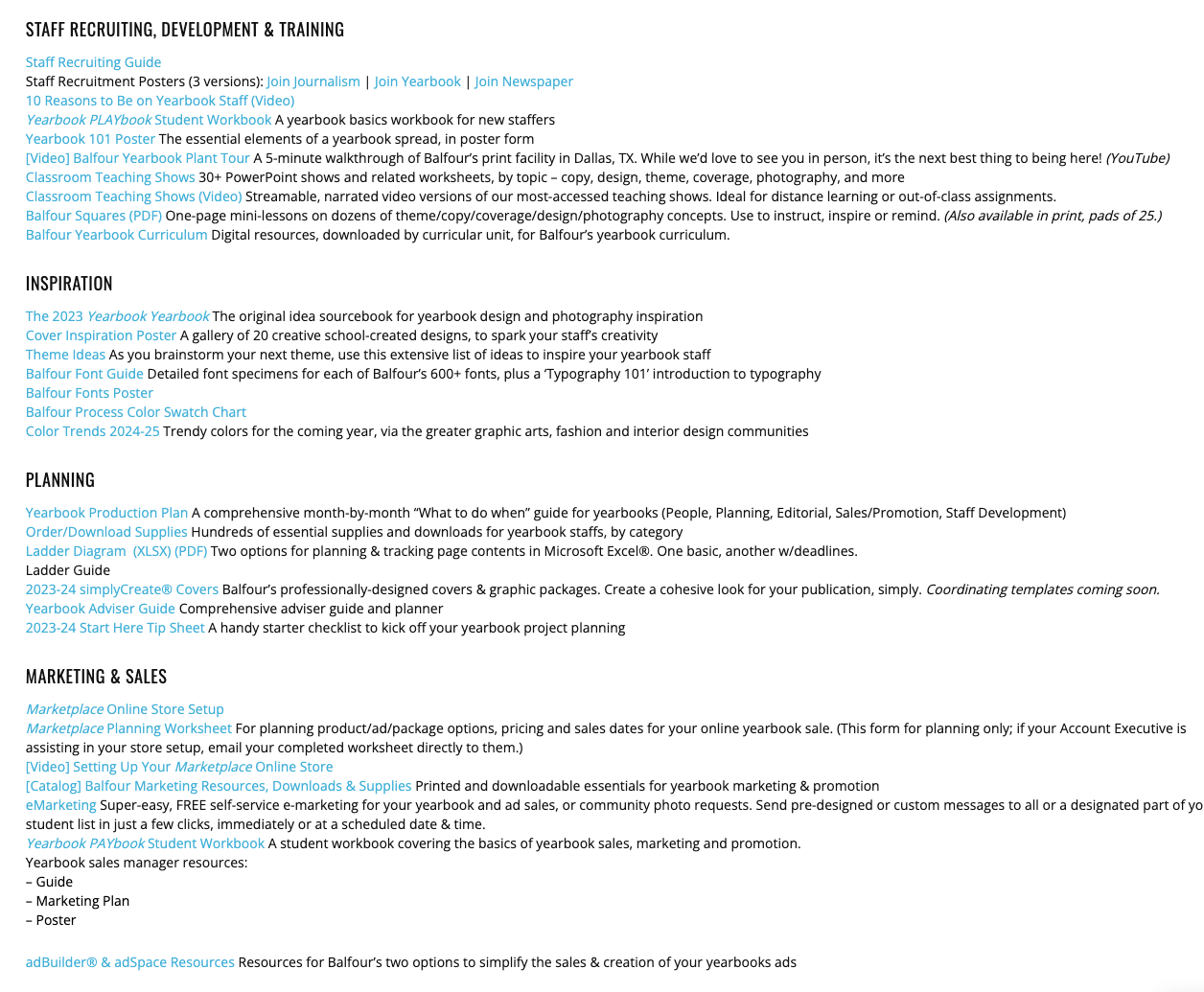 2. Be photo ready. Scheduling photo opportunities will help you attend all important events. Create a master calendar with all school events, sports schedules, and holidays in one master photo calendar. This will give you a roadmap to capture photos of all the critical events and activities of the year.
Pro tip: Use the calendar in the back of our 2024 Yearbook Adviser Guide located at StudioBalfour.com. Click on the "Start Here" banner, scroll down to "Planning," and click on the resource labeled "Yearbook Adviser Guide".
3. Explore your home base.

StudioBalfour.com is your comprehensive hub for all things related to yearbooks. It's where you can add users, set up an online store, explore available teaching resources, order supplies, and access your Encore project.


4. Make some money. Set up your custom Marketplace Store to make it easy to sell your yearbooks online. Once ready, you can promote your school's store direct URL with a QR code link.


5. Be content driven. Brainstorm what topics your book will cover, and then plan your pages to arrange the content and structure of your yearbook. Once you have a plan for the content of your book, you can divide the pages into mini-deadlines to keep everyone motivated.

6. Make MORE money. Calculate your ad rates based on the cost per page for your yearbook.
Pro tip: Divide your estimated cost by the number of pages for a base per-page rate. Set your ad rates two to three times the base page rate to ensure you generate revenue to offset the cost of producing your yearbook.
7. Bring your A-Game. Take the first few weeks of school to dive deep into training the staff on yearbook production, classroom procedures, and technology. This is a great time to set goals and establish good team dynamics that last all year.
Pro tip: Click on the "Start Here" banner, then scroll down to "Production, Layout, and Design" and you'll find a resource labeled "Encore Resources." Here you'll find valuable how-to videos and guides that will help you navigate StudioBalfour.com and Encore like a pro!
8. Be loud.
Make your book a best seller by developing a marketing plan to promote your yearbook to students, faculty, staff, and the community. This could include social media campaigns, e-marketing, posters, flyers, skywriting, whatever works best for you. Dream big!
Pro tip: Check

out our exclusive Yearbook Marketing Guide and Sales Manager Guide in the 2024 Yearbook Adviser Guide located at StudioBalfour.com. As we shared above, you can access this resource by clicking on the "Start Here" banner and scrolling down to the "Planning" section.
9. Go shopping. Make sure you have what you need.
Pro tip:

Check your stash of memory cards for cameras, rough draft layout grids, staff t-shirts, printer paper, snacks, etc. Whatever tools you need to keep everyone on task.
10. Meet your BFF. Meet with your yearbook representative to get into high gear. Your representative can help you with all aspects of yearbook production, from planning to printing. They will work with you on budgets, cover options, deadlines, and more. They are a guide on the side to keep your yearbook on time and budget.
Pro tip:

Schedule a meeting with your yearbook rep today!
By following these tips, you can start your yearbook year off on the right foot and create a yearbook that your students and community will love.