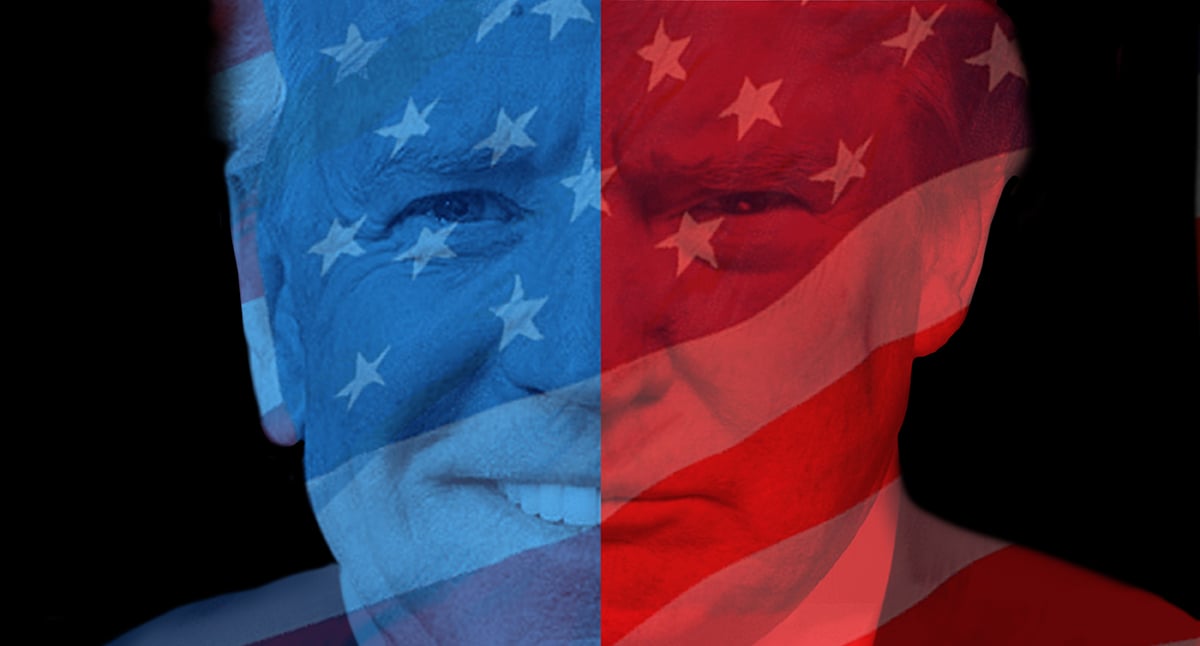 Every four years we have the perfect excuse to show a little patriotism. Presidential elections are some of the most interesting yearbook spreads a staff can create. Who will win? What should we feature? How do we tell the story? Let the patriotic coverage begin!
It's been a whirlwind summer and fall, especially when it comes to politics. As record numbers of people have both registered and voted early, it's essential to include election coverage in our yearbooks. If you're not sure where to begin, here are a few suggestions.

With the prevalence of social media, it should be easy to find I voted stickers pics and selfies. Just don't forget to ask for permission to use them in the yearbook. Photo by Kel Lemons
Visual ideal
This can be the toughest aspect of political coverage since many political photos are copyrighted. Nevertheless, there are solutions. First, photos taken by government employees are not copyrighted. So for the most part, photos on whitehouse.gov can be used. You could also perform a Creative Commons search or freely use photos from NSPA's Campaign 2020 Photo Exchange. Biden's campaign also has a host of photos on their flickr account that have Creative Commons licenses. Make sure to follow specific guidelines for usage and photo credits.

Images of Democratic candidate Joe Biden from a March rally on the NSPA's Campaign 2020 Photo Exchange.
Another option is to purchase photos from a stock agency like AdobeStock, Shutterstock or iStockPhoto. You could opt for the subscription service or purchase a pack of images for a set price. (AdobeStock offers 10 free images with a new account while Shutterstock has an on-demand pack of five photos for $49.) Also, wire services like the Associated Press and the Tribune News Service offer student publication discounts.
Don't limit yourself to just photography. You could also use artwork instead of editorial images. Pixabay and Picsfree are both free photo sites with photo illustrations and graphics related to the election. You could also have a student create artwork, by hand or on the computer. If you don't have a talented staffer, think about reaching out to the art classes for help. We're also creating and crowdsourcing illustrations that are available on the election page of the Balfour Exchange.

This US map of Democratic and Republican icons is available for free on Pixabay. The site also has Trump, Biden and voting illustrations. Photo by Gordan Johnson for Pixabay
Coverage ideas
Let's also think creatively about how to cover the election. There are a lot of facets to the 2020 presidential election and other races. Here are a few ideas to get you started.
I voted selfies. Feature students and teachers with their "I voted" stickers. Consider running a whole spread of the stickers and selfies.

Map it out. Run a US map and break down the electoral votes by states and color.

Election timeline. Consider running a hit list of all the important moments that happened over the days and weeks leading up to the election. If the race is undecided on Election Night, continue the timeline until the winner is announced.

Viral moments. Highlight all the highs and lows of the presidential campaign. Include humorous moments and social media discussions like the fly during the vice presidential debate.
Soundbites. Feature the most compelling comments and quotes from the candidates, politicians, journalists and celebrities.

Seniors voting for the first time. Find out which students are old enough to vote and write about their experience.

Who would you vote for? Don't forget about the perspective of future voters. Poll the student body to find out which candidate they would have voted for.

Blast from the past. Ask teachers to share their recollections of the first election they voted in.

Quote me on it. Ask students for their perspectives on the candidates, the campaign, election issues and the results. Try running the text in red or blue, depending on their answer.

Tweet away. Run a social media module on student and teacher reactions to debates, voting and the election results. You could also consider doing a whole spread on Twitter reactions, including celebrity ones.

Campaign involvement. Were any of your teachers or students involved in local, state or national campaigns? Tell the story of their volunteering and why they became active in politics.

Other election results. Think about covering Congressional races as well as local and state races, especially if they were close or would be interesting to your audience.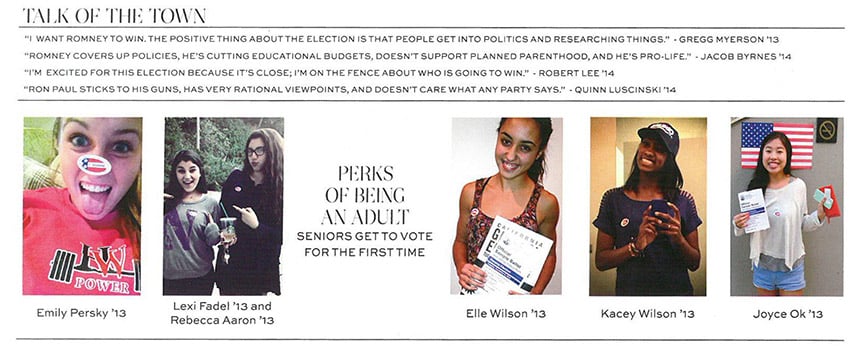 The Harvard-Westlake yearbook featured a module on first-time voters in their 2013 yearbook.
If you're still looking for ideas or need design inspiration, check out our Pinterest page. There are pins from several elections, including professional news coverage and more than 40 yearbook spreads. We hope you're inspired to create patriotic and memorable election coverage.