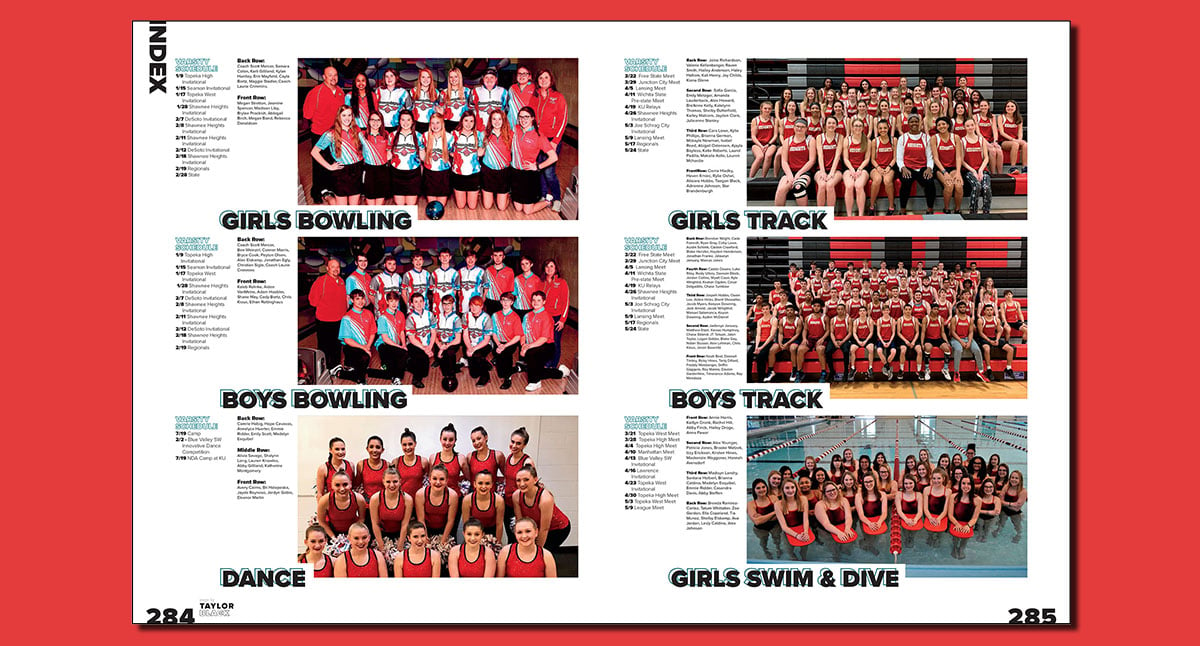 It's easy to showcase the theme on the cover and early pages. It's tougher to carry it later on, especially on reference pages like the group shots and team photos.
Club and team photos are an integral part of the reference function of a yearbook. They provide a detailed observation of the students involved in the school's clubs and sports. These pages still need to have some aspect of the theme carried out—visually, verbally or both.
The simplest way is include the theme's graphic look. The colors, shapes and/or textures used earlier in the book should also be seen with the group shots and team photos. They can be featured in small, subtle touches or in big, splashy statements, depending on the look and feel of the theme.

Riverwatch Middle School's theme "…To This Point…" utilized colorful triangles as the book's graphic element. The book also incorporated a light gray background on spreads. Both visual looks are seen with the club photographs, keeping a consistent thematic look throughout the book.



For their "Gen Z" theme, the Fort Zumwalt South High School staff used a digital circuit illustration, thick bars and frames, and the color red throughout the book. The team photos also employ these elements without overwhelming the reader.


Additional feature coverage can also be a way to continue the thematic look throughout the book. Group shot and team photo pages can include secondary coverage using quotes, cutouts, Q&As, mini-stories and other sidebar packages. These packages can be the same designs used earlier in the book or original content, using the same colors, fonts and graphic looks.

In their group shots, Oak Grove High School featured additional coverage of each organization. The sidebars, which include a photo package, quotes, quotes and cutouts, and a Q&A, match similar styles used in other areas of the yearbook. The coverage also uses the same colors and fonts.


The reference section often gets overlooked. It's essential to carry the theme throughout the group shots and team photos. Adding connections to the theme, visually, verbally or both, will provide a uniform and harmonious look throughout the yearbook.