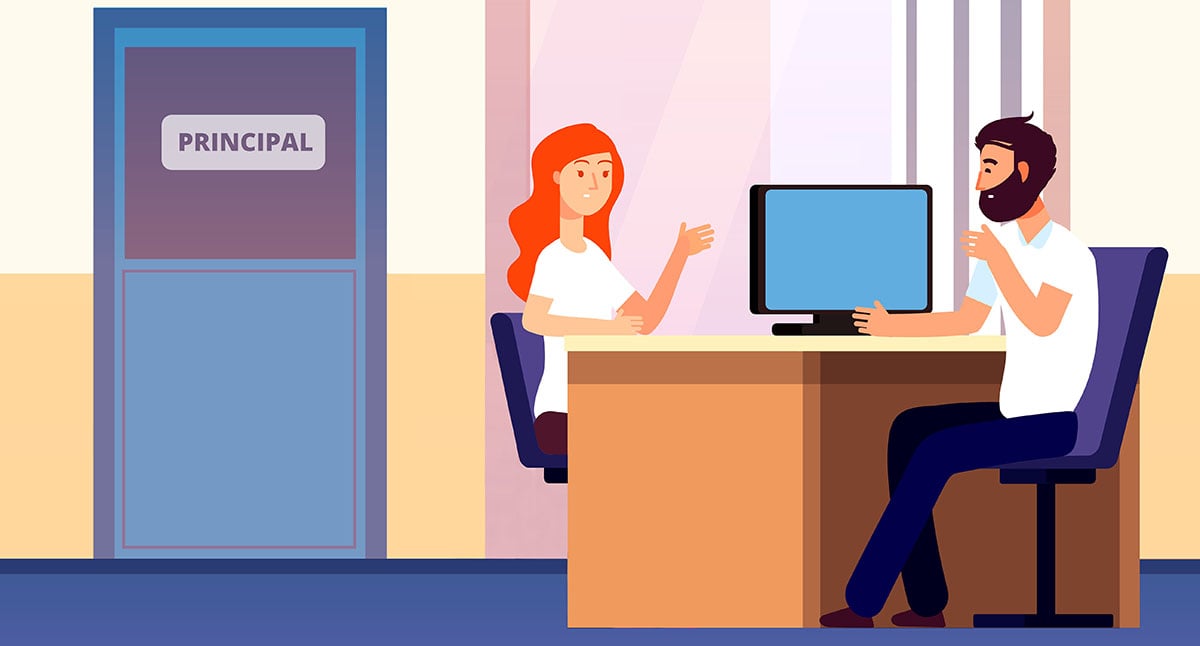 "We'll reprint it." Three words that terrify advisers. If you've never had a conversation with your principal before the yearbook comes out, now is the time.
Years ago, an adviser shared a powerful story about yearbook promises. After distribution, a club sponsor reached out, unhappy with a story. While the quotes truthfully reflected the year, the sponsor felt they portrayed her group negatively. She wanted the story changed and the yearbook reprinted. The seasoned adviser listened to the complaint, politely stood by the story's accuracy and declined any changes.
Unhappy with this response, the club sponsor escalated the situation, taking her complaint to the principal. The administrator listened and quickly said, "We'll reprint the book." Later, the yearbook adviser met with the principal, telling him, "I wish you hadn't said that." The surprised principal was assured a quote for reprinting would be quickly attained. A day later, the adviser handed the five-figure quote to the principal and said, "You get to tell her."
The adviser knew reprinting an entire book was not a viable option. The principal did not. Consequently, he made a bad assumption and a broken promise. While this anecdote is amusing in retrospect, the possibility of it happening on your campus is no laughing manner.
To avoid journalism pitfalls, it's essential to have conversations with your principal about certain yearbook matters. The earlier this happens, the better. Here's three topics you should discuss:
REPRINTS
This is the big one. Producing a yearbook is a year-long process, not just for the students. The book is printed in signatures, 16 pages on a double-sided, giant flat of paper. As signatures are completed, the pages are printed. The exact quantity submission is essential to this process. After deciding how many books to order, only that number of pages are printed. The same goes for the cover.
Reprinting the book involves new plates for the corrected pages, reprinting the other signatures and making new covers. This is hundreds of hours of work for multiple teams and several weeks of production time. Meanwhile, the printing facility is busy completing other yearbooks. Expedited handling fees may come in play in addition to the base cost of printing materials and labor.
MISTAKES
Mistakes happen. It's important your principal understands that. There is yet to be a perfect yearbook. Remind the administrator the book is created by students with almost no experience, learning as they go. Essentially, the yearbook is their homework and tests for the world to see. Mistakes are an inevitable part of the learning process.
Let him/her know you have procedures in place to check for grammatical errors and verify name spellings. But ultimately, mistakes happen. Just like players miss tackles, musicians miss notes and actors flub lines.
Walk through how you'll address mistakes, especially ones that are more grievous. (Was a senior ad left out? A senior portrait? Talk with your Balfour rep beforehand to know possible solutions.) But make sure he/she understands mistakes are not a reason to reprint the book.
A crack and peel sticker is an efficient way to fix photo, grammatical or editorial errors. Photo by Kel Lemons
SENIOR QUOTES
If either of you are new, have a frank conversation with your principal about senior quotes. If you want to stop including them, walk through problematic scenarios and challenges. You'll need your principal's support because student and parental responses can be intense.
Senior quotes are labor-intensive and time-consuming to verify, thanks to inside jokes and inappropriate material. Every May, a school ends up on the news because a sneaky senior slipped in a lewd or racist quote. You don't want to be that school, risking your job or the integrity of the book.
Also, senior quotes are rarely original. There's a genuine copyright concern from using famous quotes and pop culture references. Moreover, quoting Lady Gaga really doesn't tell you anything about that senior's year. Senior quotes rarely provide true value or insight into the student.
Instead, replace senior quotes with an alternative. Consider feature coverage on seniors, including profiles, mini-stories and Q&As. Sidebars could ask seniors about their final year and time in high school. Now, those are senior quotes that have substance and value.

An alternative to the traditional senior quote under a portrait is a more journalistic quote. In this case, the Vista Ridge staff asked questions connecting to senior year. Combined with the typography, it's a compelling design that connects with the students' real lives and their final year of high school.
WHAT ELSE?
Other topics you may want to address:
How to handle name change requests (Do students need parent permission? Can students use nicknames? Can transgender students use the name they prefer?)
Senior portrait attire & props (Can students hold a rifle? Are mid-drift or sleeveless tops allowed? Can a girl wear a tux? A boy a drape?)
Senior ad photo stipulations (Are images with red cups allowed? Are hunting or shooting photos accepted?)
Deaths (Memorial ad? Dedication? What size?)
Free books (Does anyone get a free book? How many? Are there funds or a program for students in need?)
Final thoughts
Reminder: Your principal is not the enemy. He/she wants to support you and the yearbook. Avoid going in with a "It's my way or the highway" attitude. Provide your administrator with ample information to help make tough decisions, ask for suggestions, and garner support for the final calls. Finally, whatever decisions you come to in your meeting, put them in writing. Have a student media policy that spells out your guidelines and policies.
Yearbook is a challenging assignment. You're the only person on campus running a business AND creating a permanent memory of the entire year. It's essential to have an informative conversation and discussion so the administration understands yearbook limitations and supports your program.