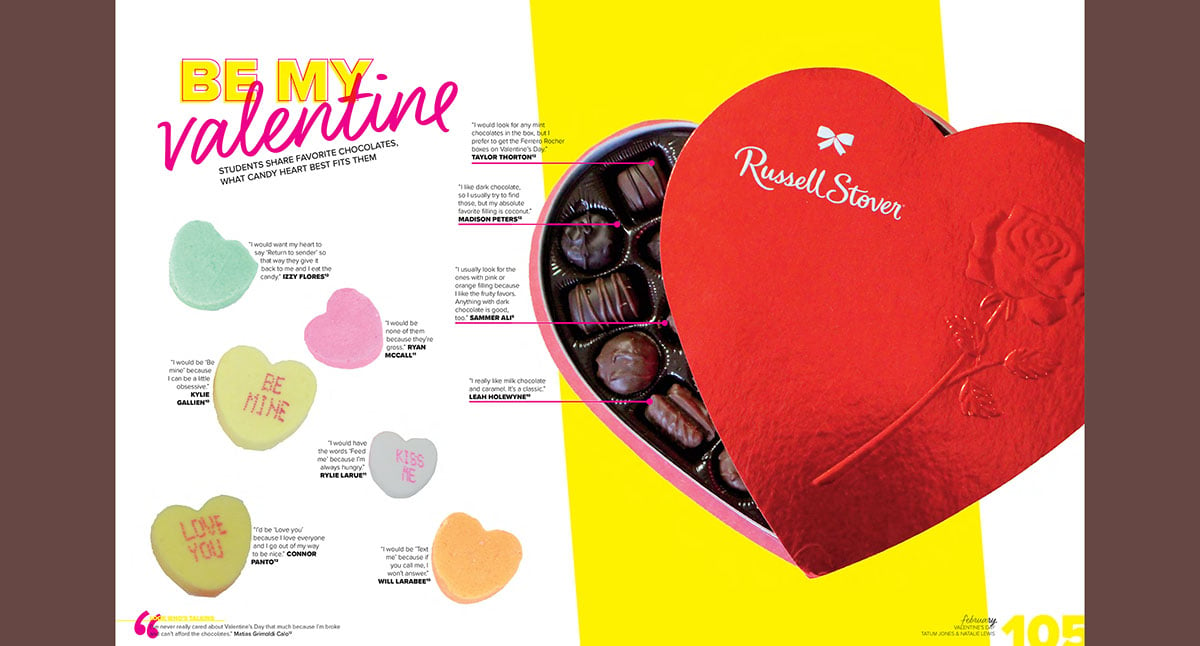 Kudos to everyone who has hit the submit button. For the rest of us, here are 12 more ideas to fill blank pages. Whether you're scrambling to meet your final spring deadline or chugging along for summer and fall deliveries, we're happy to brainstorm and inspire. Happy Designing!
1. Unconventional student jobs Feature the weird and wacky ways students earn money. Utilize object cutouts if it's difficult to get candid photographs.

Props to the Maverick yearbook staff for this fun twist on student life coverage, featuring unusual jobs McNeil High School students have.


2. Spending money Speaking of the Benjamins, consider a spread dedicated to how students spend money. Include polls, statistics and quote modules to emphasize the spending habits.
3. Spring holidays A Valentine's box of candy could go with quotes about the day, relationships or favorite sweets and gifts (see the delicious example at the top from Stratford High School). Celebrate Chinese New Year with a spread on the 12 animal signs, featuring the Year of the Ox and quotes from students born under different signs. A St. Patrick's Day spread could share lucky and unlucky stories.
In the 2020 book, McNeil staffers covered winter and spring holidays, including this Valentine's Day layout. Besides student life features, the spread showcased club coverage with a module dedicated to the National Honor Society's fundraiser.


4. What we love about spring Turn this into a beautiful typographic spread with student and staff responses. Or consider adding flower illustrations or objects referenced. If you're still trying to fill space from earlier in this book, the layout could be used for four spreads, one for each season.
5. First time for everything Whether it's trying a new dish, getting behind the wheel or hitting the winning shot, this could be a fun feature on experiencing something new.

The Reata staff shared first time stories from Memorial High School students, including sports and birthday milestones.


6. COVID trends You might have plenty of coronavirus coverage already, but have you focused on how it's changed recently or the resulting trends? Think double masking, monochrome sweats and family pack takeout specials.
7. Pandemic plants One of the beneficial pandemic trends has been a focus on gardening. Window and desk plants are a thing, especially with virtual learning. Think about a photographic spread showcasing the most popular plants and various shelf incarnations.
8. Quiz We're a big fan of interactive content, especially because it doesn't rely heavily on visuals. School spirit quizzes are a popular choice, but consider a different take—a matching quiz for teacher tchotchkes or macro photos of iconic school locations and objects. Or go in a non-school direction, focusing on your town, pop culture or the coronavirus.

The Black & Gold staff at Rock Canyon High School created interactive coverage related to the pandemic, asking students about worry levels, preparation, hand-washing songs and COVID facts.


9. Numbers A typographic layout focused on coronavirus statistics could create a dramatic impact. Envision "SIX FEET" running in all caps and a bold font. Add national facts and figures, but also ones impacting your school. (How many virtual days last spring? Virtual vs in-person numbers this year. Survey students for mask-wearing habits and pandemic fatigue.)
10. Things you don't know about… Go on a fact-finding mission about your school and share the results. Feature five or 10 answers with related pictures. (If photos are limited, consider running a single image of your school front or a cutout of the mascot.) Another option is to turn the idea into a spotlight, focusing on your principal or the entire administration. Students are always surprised to discover school leaders have a life outside of school. A third route is to feature numerous students with their surprising facts; add selfies or cutouts as a bonus.
11. What's for lunch? Whether it's a cafeteria option, a fast-food run or the home kitchen, cover students' noontime munching. If virtual students lack coverage, you might choose to focus on home lunches. Also, consider a module or a full spread on teachers' choices. Include a pic of an open workroom refrigerator or cutouts of their meals.
12. Favorite T-shirts Nope, we're not talking about school-related tees. Let's feature personal favorites, in all their colorful glory.

Eleven students were showcased on this favorite T-shirts spread by The Bard staff at Hill Country Christian School.
More places to find ideas:
2021 Coverage Series There are almost 500 ideas for student life, academic, people and sports content as part of coverage series. Check out the posts and the PDF handouts. You can also access all the content on our Coverage page on the Exchange.
Yearbook Spreads Visuals always help sell an idea. We've shared hundreds of spread examples from the last five years on our Google resources drive.
Ready-to-Go Content Don't forget you have plenty of options from the RTG Content Collection. There are 74 pages on 25 topics, allowing you to choose the spreads that work best in your book. You also have access to the spread photos to create your own layouts.
There are also additional photos related to the RTG content available for use. And, we've added new images to help you with these topics. Check out the Ready-to-Go Content link on the Balfour Exchange for access.