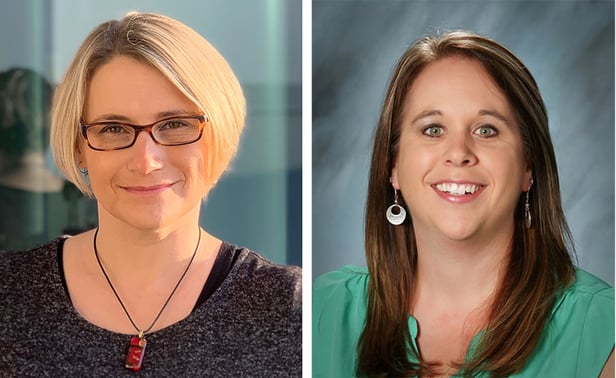 The Columbia Scholastic Press Association recognized two Balfour advisers as part of the 2020 National High School Teacher of the Year Awards program, Feb. 11.
CSPA honored Kristin Taylor, The Archer School for Girls, Los Angeles, California, as a 2020 CSPA Distinguished Adviser and Anne Hayman, Arlington High School, Arlington, Washington, as a 2020 CSPA Special Recognition Adviser.
Taylor is the newspaper and yearbook adviser at The Archer School for Girls. This is her 23rd year teaching and eighth year advising. Taylor became the newspaper adviser in 2011-2012 when it was a club that met weekly. She became passionate about journalism, becoming a Certified Journalism Educator, launching a class in 2013 and attending the ASNE Reynolds Institute in 2014. By 2016, the program had grown dramatically with Taylor taking over the yearbook and the online paper winning a NSPA Pacemaker.
"Taking on the yearbook felt like being a new teacher all over again, as I learned about layout and design, expanded my comfort teaching photojournalism and dove into the Adobe Suite," Taylor said. "I've spent the past four years learning and growing with my students as we transformed our yearbook into a journalistic publication."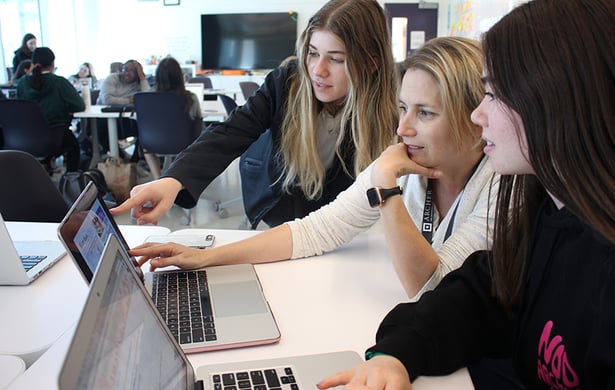 The Archer School for Girls adviser Kristin Taylor (center) will receive a 2020 CSPA Distinguished Adviser Award in March. Photo by Quincy Gordon


Taylor plans on expanding the journalism program to middle school students to include all 6-12 grades. As one of the four Distinguished Advisers, Taylor will receive a plaque, one-year subscription to The Wall Street Journal and access to Poynter Institute webinars.
"She is extremely dedicated in advancing the status and content of the yearbook and in doing so, entrusts the editors to be empowered to make those decisions," Balfour representative Corey Mundwiler said.
Hayman advises the news website and yearbook at Arlington High School. She's the president of the Washington Journalism Education Association and has been advising for 22 years. A Nationally Board Certified teacher and Master Journalism Educator, she has taught workshops in Washington, Arizona, Montana and Kansas. In addition to her journalism, newspaper and yearbook classes, Hayman is adding broadcasting and podcasting into the mix next year.
"I am incredibly proud of what my little program has been able to accomplish, and I'm excited to see what they do as we bring broadcasting and podcasting into things," Hayman said.
The four Special Recognition Advisers will receive plaques in honor of the award.
"I've been in the yearbook world a long time, and I have learned a lot from the wonderful advisers and professionals I've met along the way," Hayman said. "I could not have earned this recognition without their mentorship. I'm looking forward to what the future brings."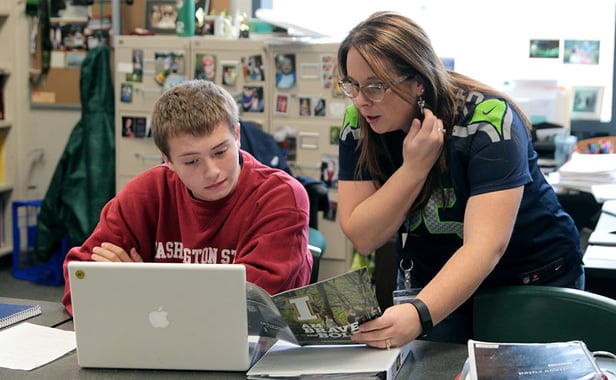 Arlington High School adviser Anne Hayman was recently named a 2020 CSPA Special Recognition Adviser. She'll receive the national award in March. Photo by Eagle News Media


CSPA manages The National High School Journalism Teacher of the Year Awards program which is co-sponsored by the Dow Jones News Fund. The program receives additional support from the Poynter Institute for Media Studies and The Wall Street Journal.
The awards will be presented at the CSPA annual Spring Convention, March 19 at Columbia University's Low Memorial Library in New York City.