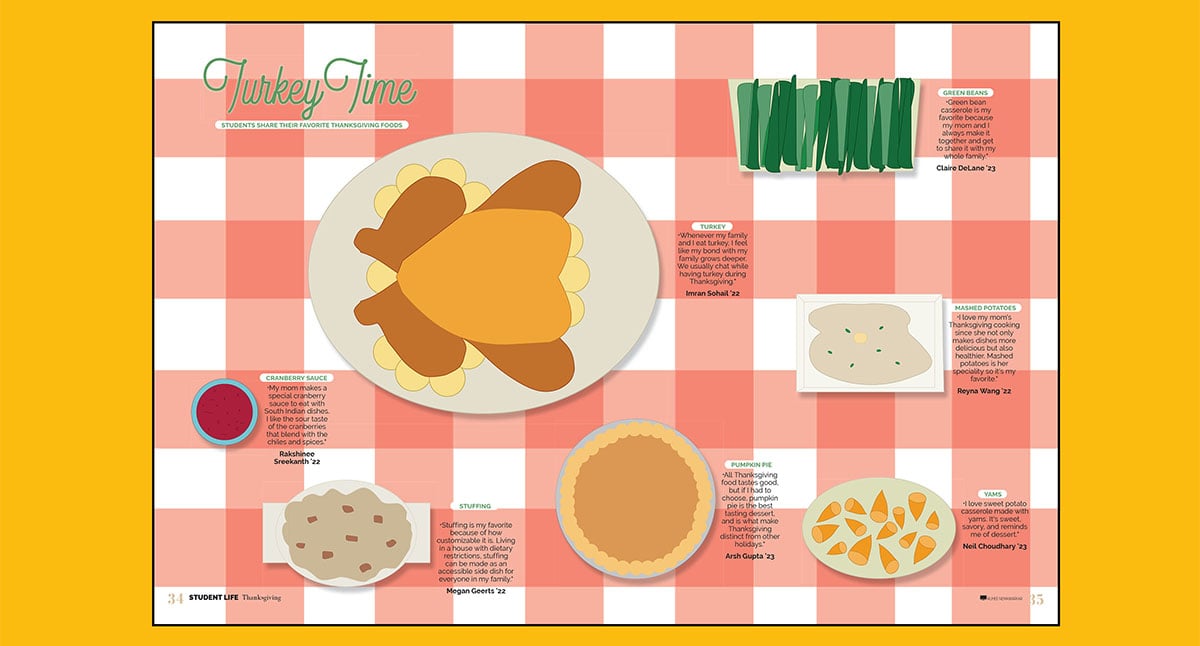 Turkey, sweet potatoes and pumpkin pie cook up more than a delicious Thanksgiving Day. Turn all the T-Day fixings into a delish yearbook spread.
We were delighted this past year when more staffs covered Thanksgiving. It's fairly common to see Halloween spreads, but there's something about the turkey holiday that makes us downright thankful for coverage of our favorite Thursday in November. Let's dig into the delicious designs.


Inglemoor High School The Scandia yearbook staff used a variety of modules to tell their school's Thanksgiving story. They featured two different students in pictures and quotes, polled people about their celebration and traveling choices, and showcased four students' unique dishes.




Cedar Park High School Oh my, pie! The Tracks staff took the delicious route, focusing on the majority of the spread on favorite pies. They also included a module from the photojournalists photographing their own Thanksgiving dinners.




Vista Ridge High School Connecting with the "Wait a Minute" theme, the Lone Star staff featured numbers as part of their Thanksgiving spread. The central package keyed on eight things students were thankful for, a nice tie to a holiday associated with gratitude. A full spread of Thanksgiving dishes at the top and cutout elements on the bottom nicely sandwich the coverage. A factual module on the right page connects again to the theme with its emphasis on numerals.




Holy Trinity Episcopal Academy The Tigrium took a different approach, showcasing on the volunteer aspect at their school. The main module package focused on their annual Thanksgiving basket drive while a smaller module featured donated items. Two other mods centered on Thanksgiving, one on pie favorites and another on two brothers' family traditions.




McKinney Boyd High School Using food cutouts and oversized numbers, the Bronco staff focused on the food aspect of the Thanksgiving holiday. They chose holiday staples and included a few quotes to accent the dishes.




Bellaire High School The Carillon staff also took a food approach, featuring an illustration of a single plate with all the trimmings. They included students' thoughts on the Thanksgiving dishes, including favorite pies. A sidebar focused on friends who gathered together for the holiday.




Westwood High School Also featuring food, The Heritage staff added a twist to the spread's look. Using computer illustrations set on a picnic table motif, students shared their favorite Thanksgiving foods.


Bring on the turkey and the Thanksgiving spreads! We hope these examples make you hungry to plan and create your own T-Day layouts.