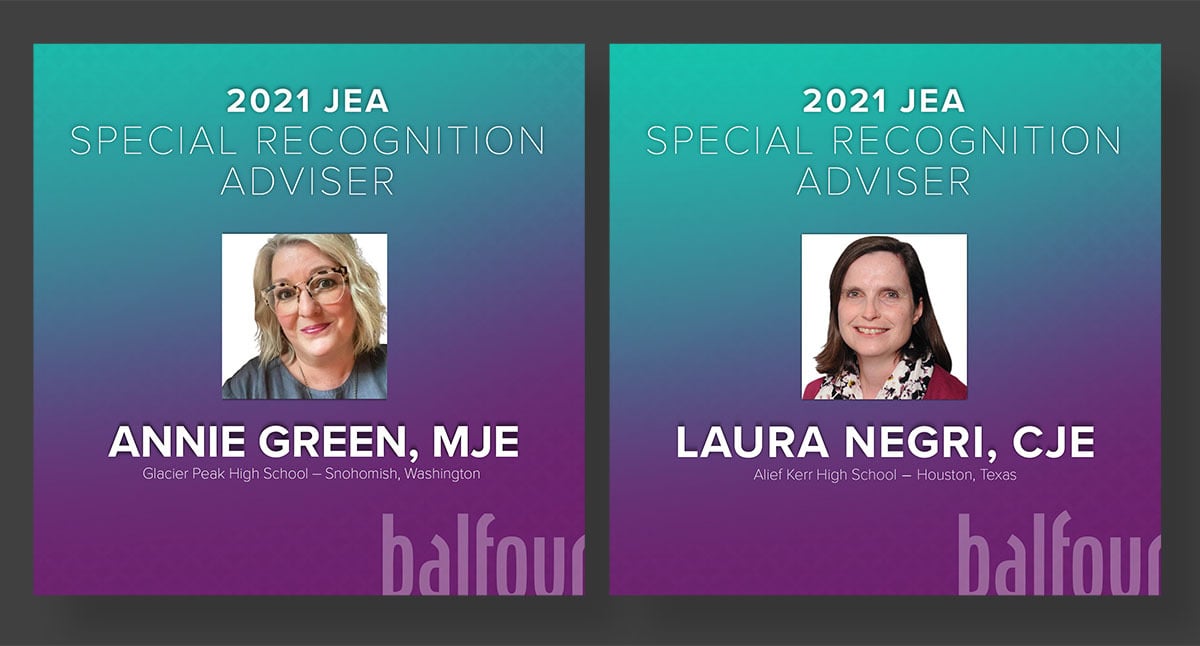 The Journalism Education Agency named advisers Annie Green and Laura Negri Special Recognition Yearbook Advisers Monday, Dec. 6.
The national awards are part of the H.L. Hall National Yearbook Adviser of the Year program to honor exceptional advisers. JEA honored Corning-Painted Post's Michael Simons with the top award. Three advisers were named Distinguished Yearbook Advisers while five were honored as Special Recognition Yearbook Advisers.
Annie Green, MJE, is the yearbook adviser at Glacier Peak High School in Snohomish, Washington. She's advised publications in the greater Seattle area for 27 years, earning NSPA Pacemaker nominations and Balfour's Yearbook Yearbook Best honors. Principal Jeff Larson shared with JEA how Green has impacted Glacier Peak students.
"Annie literally changes the trajectory of students," Larson said. "She helps them find their purpose and passion. She teaches them to believe in themselves. She teaches them what it means to work hard, to be dedicated, to be a leader. She teaches and models what true friendship looks like."
Alief Kerr High School adviser Laura Negri, CJE, creates a warm and safe environment for her journalism students. From the "tattered couches," stuffed animals and requisite coffee station, fridge and microwave, Negri's students have the all the comforts of a home away from home.
"The yearbook room is a safe space for students to express their idea and identifies," Negri said.
In addition to advising the newspaper and yearbook, Kerr has taught journalism and photojournalism in Texas since 1996. The Safari yearbook is regularly featured in Balfour's Yearbook Yearbook. The veteran adviser also contributes to journalism at the state and national levels. She recently served as the JEA board of directors director-at-large.
Her students shared with JEA warm memories of the adviser and her influence on them.
"She is one of the few people who chose to believe in me even while I was failing and falling asleep in many of my classes, sometimes including her own, and I credit her for always giving me something to look forward to everyday during my years at Kerr," former student Michael Bui said.
Green and Negri will receive a $500 award that can be used for classroom equipment or workshop scholarships. The H.L. Hall National Yearbook Adviser of the Year program is supported by Balfour Yearbooks, Herff Jones Inc., Jostens Printing and Publishing and Walsworth Yearbooks.
The winners will be recognized in April at the JEA/NSPA Spring National High School Journalism Convention in Los Angeles.