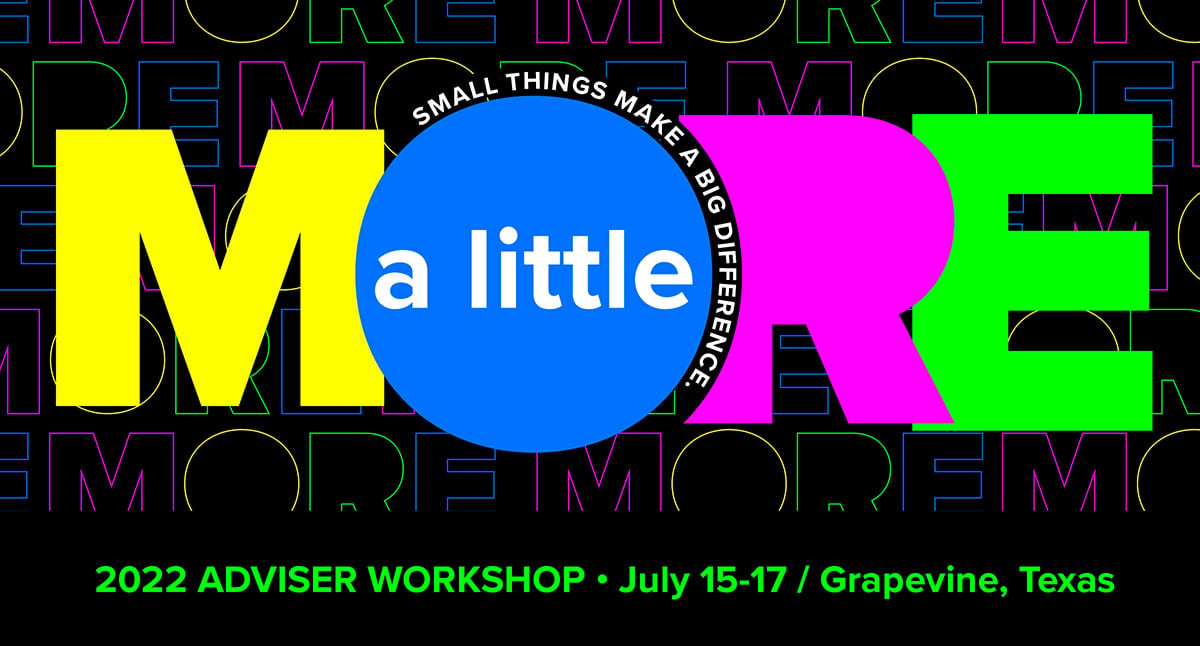 It really is "a little MORE" this year! After going virtual the last two years, we're excited to be in person again for the best professional development for yearbook advisers, anywhere.
Join us July 15-17 at the Hilton's DFW Lakes Executive Conference Center Dallas. The 2022 Adviser Workshop offers an innovative format, letting advisers customize their schedule to their individual needs and circumstances. Sessions, taught by nationally-recognized trainers, provide downloadable resources and interactive opportunities. A variety of yearbook and adviser-related topics will be featured, including theme, coverage, design, photography and staff management. An optional tech training day offers instruction on Photoshop, InDesign or Encore.
This summer's lineup includes:
ADVISER TRAINERS
Velisa Jewett, CJE Claudia Taylor Johnson High School adviser – yearbook
Mark Murray, Executive Director of Association of Texas Photography Instructors, Former Director of Technical Services & Systems Integration at Arlington ISD – photography
Kristi Rathbun, MJE Rock Canyon High School adviser – yearbook
Candice Thomas Haskett Junior High School – yearbook
Samantha Berry, CJE Cady Studios Education Director, former Bridgeland High School adviser – yearbook
Katie Moreno, CJE The Organized Adviser, former Seven Lakes High School adviser – yearbook
Judi Coolidge, CJE Publications Consultant (aka, "The Theme Queen" and bona-fide yearbook legend) – yearbook
Kel Lemons, Balfour's Key Accounts & Education Manager, former Rouse High School adviser – yearbook
TECH TRAINERS – Encore
Balfour Representatives: Stacy Mehrens, Johnita Salerno, Tara Hays, Jayme Quick
TECH TRAINERS – Adobe Software (Photoshop & InDesign)
Balfour Representatives: Morgan Tuggle, Jim Anderson & Hal Schmidt
In addition to hearing from nationally-recognized trainers, networking with peers and receiving valuable classroom resources, you'll stay at the beautiful Hilton DFW Lakes Executive Conference Center, close to DFW International Airport, walkable shopping and short drive to dining and entertainment such as Six Flags, AT&T Stadium (home of the Dallas Cowboys) and the Fort Worth Stockyards.
We'd love to see you in July! Register by June 10. #alittleMORE #balfourworkshop