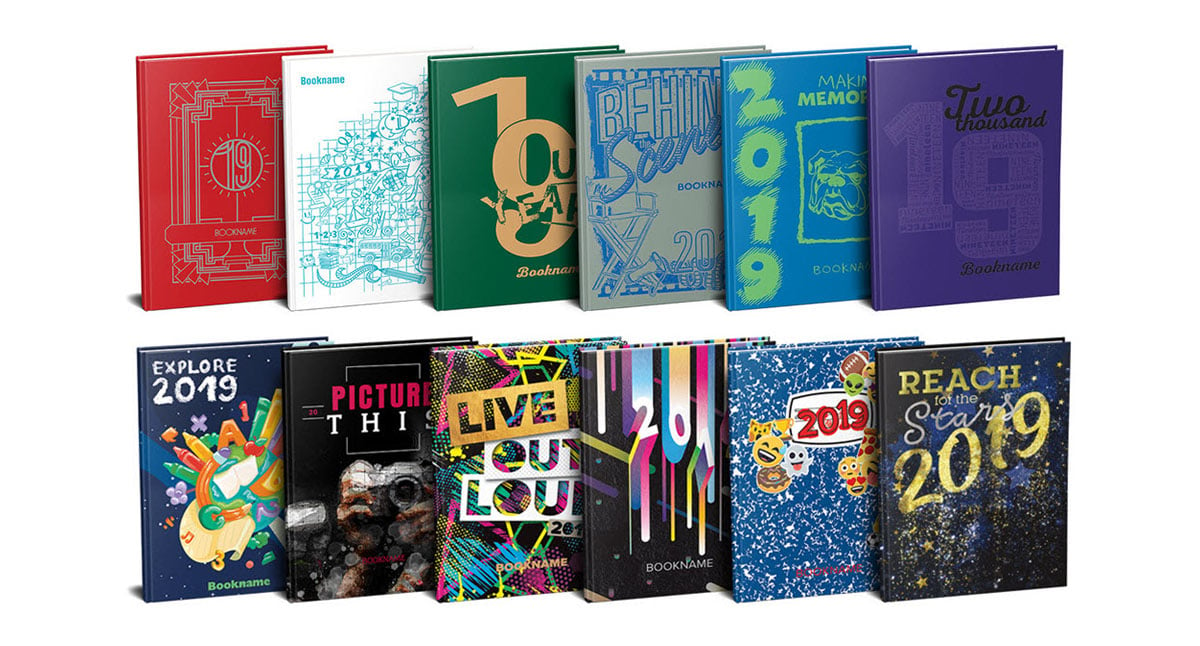 There's no need to stress over what the yearbook cover should look like. The simplyCREATE collection provides a variety of beautiful cover options, without having to worry about colors, fonts or designs. So, relax and let the professionals do the hard work. All you have to do is choose the one you want.
Make 2019 your best year ever with professionally-designed yearbook covers. Whether you're an encore or StudioWorks+ customer, the simplyCREATE collection will inspire your yearbook. The collection includes 25 design options in two general categories: Silkscreen/Foil/Emboss and Lithocote.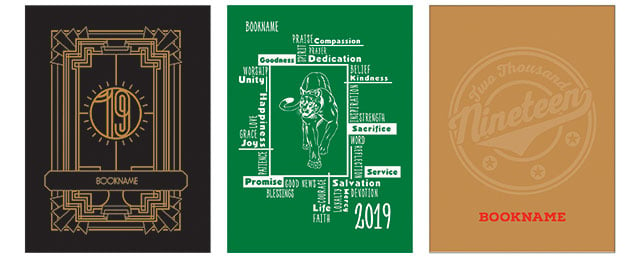 The simplyCREATE collection includes a variety of covers that can be silkscreen, foiled or embossed. All options can include the book or school name and some of the covers can feature the school's mascot.
Silkscreen/Foil/Emboss
With a silkscreen, foil or emboss design, you choose both the cover material and decoration color. This allows you to personalize the look so it is unique to your school. The three types of cover materials, Lexotone, Korigan and Frontier, come in dozens of colors.
Silkscreen is an affordable cover ink, and most of the covers in this group can also be foil stamped and/or embossed. You can feature your mascot or another design on these covers, as well as adding the book name. Your Balfour Representative can show you additional options and discuss specific colors and materials.
From an art deco look to film production, the covers have creative and distinctive looks. Designs 1907 and 1908 feature large areas to include the school mascot while Design 1910's hand-drawn illustrations provide a fun-filled atmosphere. To help with your inside pages, each cover design has suggested fonts and clip art options.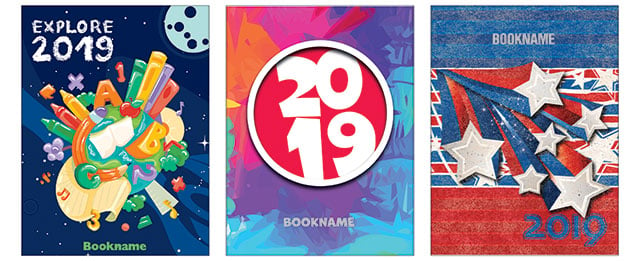 The Lithocote covers provides a printed design in a gloss or matte finish. The 15 options feature a wide range of themes and graphics looks, including geometric shapes, bright colors and computer-generated illustrations.
Lithocote
A Lithocote cover is printed on a printing press just like your yearbook pages. These designs are created by mixing the four process printing colors, with the book title foil stamped in the color of your choice. After printing, the material is laminated with a gloss or matte protective finish. Please note each simplyCREATE Lithocote cover will be printed exactly as you see them here, the colors cannot be changed.
The Lithocote covers offer even more opportunities to be inspired. From a space exploration theme to an emoji concept, the designs showcase a wide variety of themes and graphic looks. In addition to the dynamic cover designs, each concept features professionally-designed templates for your endsheets, title page, opening spread, dividers, class pages and more. Companion clip art and backgrounds accompany each package, allowing you to customize hundreds of Balfour templates for your school. If you're looking for a bright, colorful theme, patternPOP (Design 1913) or beCOLORFUL (Design 1917) might be the right hue. The starDUST (Design 1919) or limitLESS (Design 1920) themes are stunning choices for a starry or cloudy sky theme.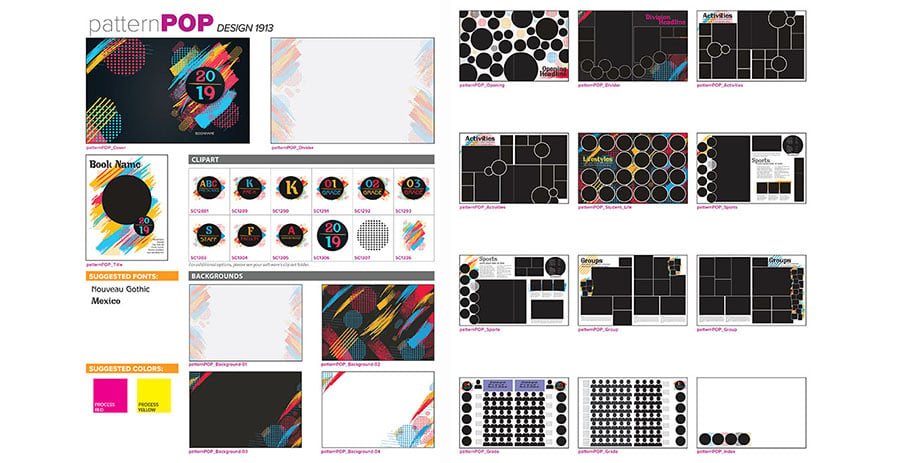 Each of the Lithocote covers have a number of additional designs, including clip art, backgrounds, dividers and spread designs.
In addition to the designs, each theme provides color and font suggestions. Another benefit to the Lithocote designs is they can be printed on soft or hard-back covers. The silkscreen/foil/emboss designs are only available as hard cover options.
To view the entire simplyCREATE collection, see the catalog featured in the fall production kit. In all, the cover look and design packages provide a compelling and beautiful start to your book's look. We hope you're simplyINSPIRED.