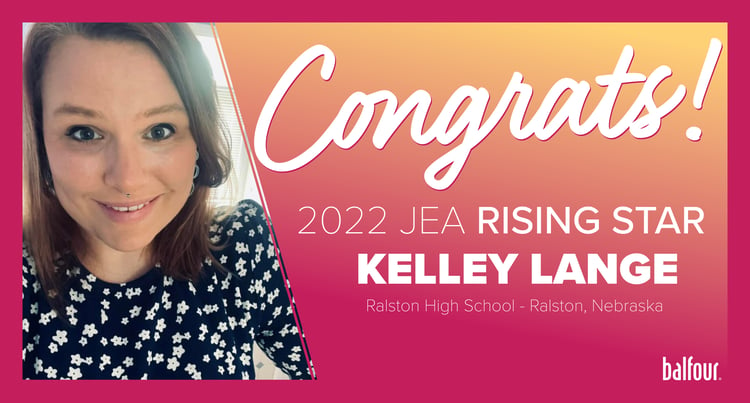 Congratulations to Kelley Lange of Ralston High School for being named a 2022 Rising Star. The Journalism Education Association recently named five teachers as Rising Star recipients, recognizing their commitment and contribution to scholastic journalism.
"I'm so excited!" Lange said. "If you had told me in high school when I was chugging out a newspaper in Mrs. Kingsbury's class that I would be advising a yearbook someday, I would've laughed. The last three years have been a journey-- advising on maternity leave and through a pandemic. I've been learning everything I can along the way, and I've had the best student journalists to share the experience with."
Kelley Lange, CJE, teaches English and advises the Ram yearbook in Ralston, Nebraska. In a short period of time, Lange made great strides as a media adviser. She revamped the journalism curriculum, bringing back the student newspaper and reviving a failing yearbook program.
"Kelley has devoted immeasurable amounts of her time both inside and outside of the classroom to bring the Ralston High School yearbook program from barely existing to excelling," mentor and Bellevue East High School adviser Stephenie Conley, MJE, said. "I cannot emphasize enough how Kelley continually led her yearbook staff with superior character and integrity, as well as with superior knowledge skills and abilities, proving over and over to be someone on which the students, administration and community could always go to for her expertise."
In 2019 Lange was hired as yearbook adviser and right away she began recruiting students and connecting them with educational opportunities. Lange also immersed herself in development opportunities, she participated in the JEA Partner Program and Mentoring Program, and attended Balfour Adviser and Student Yearbook Camp.
"I was immediately impressed by Kelley's enthusiasm and desire to jump in the deep end," said Marsha Kalkowski, MJE, JEA state director for Nebraska and adviser at Omaha Marian High School. "She is an obvious cheerleader for her students and her program through social media and that is truly fun to see. She advocates for her students at every turn and understands the role of a yearbook in providing resources and opportunities for students and advisers and the community at large."
Last year the Nebraska High School Press Association recognized the Ram yearbook with a 2021 Cornhusker Award. While recognition is encouraging, what keeps Lange working hard for her students is the pride she feels witnessing their growth.
"My greatest enjoyment in advising and teaching has been to see the students get excited about a story and then run with it, tackling all of the obstacles in their way with passion while utilizing the knowledge, skills and abilities they have developed as student journalists," Lange said. "I love seeing them do 'journalism' on their own, without second guessing themselves."
The Rising Star is an annual award presented to journalism teachers in their first five years of advising. All five recipients will be honored at the JEA/NSPA Fall National High School Journalism Convention.