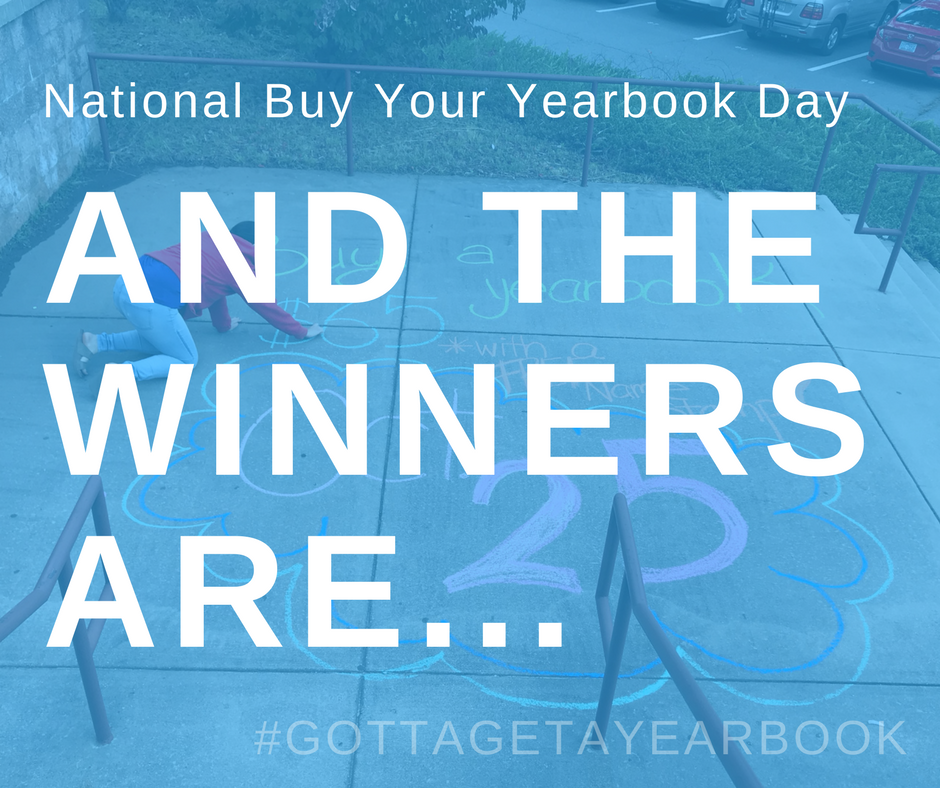 Another successful National Buy Your Yearbook Day has come and gone, and we are excited to announce our 2017 winners! We were inspired and impressed by the extent to which your staffs are promoting the yearbook on your campus. Since we had so many excellent entries, we decided to not only give away 8 – $100 gift cards, but we are also giving away 8 pizza parties to our honorable mentions!
STAFF SPIRIT (Contest 1)
-Roosevelt Middle School, River Forest, IL
-Timber Creek Elementary, The Woodlands, TX
-HM: Greenway High School, Coleraine, MN
-HM: Klein Forest High School, Houston, TX
WHO'S YOUR PAL? (Contest 2)
-Big Spring High School, Big Spring, TX
-Northern Highlands Regional High School, Allendale, NJ
-HM: Bergen County Technical High School, Paramus, NJ
-HM: Thrall High School, Thrall, TX
LIGHTS, CAMERA, ACTION! (Contest 3)
-Center Hill High School, Olive Branch, MS
-Tri-Valley High School, Hegins, PA
-HM: Harrisonburg HS, Harrisonburg, VA
-HM: Cy Park High School, Cypress, TX
SPREAD THE WORD! (Contest 4)
-Saguaro High School, Scottsdale, AZ
-Bedford Junior High School, Bedford, TX
-HM: Bridgeland High School, Cypress, TX
-HM: Winnetonka High School, Kansas City, MO
Congratulations to all our winners!