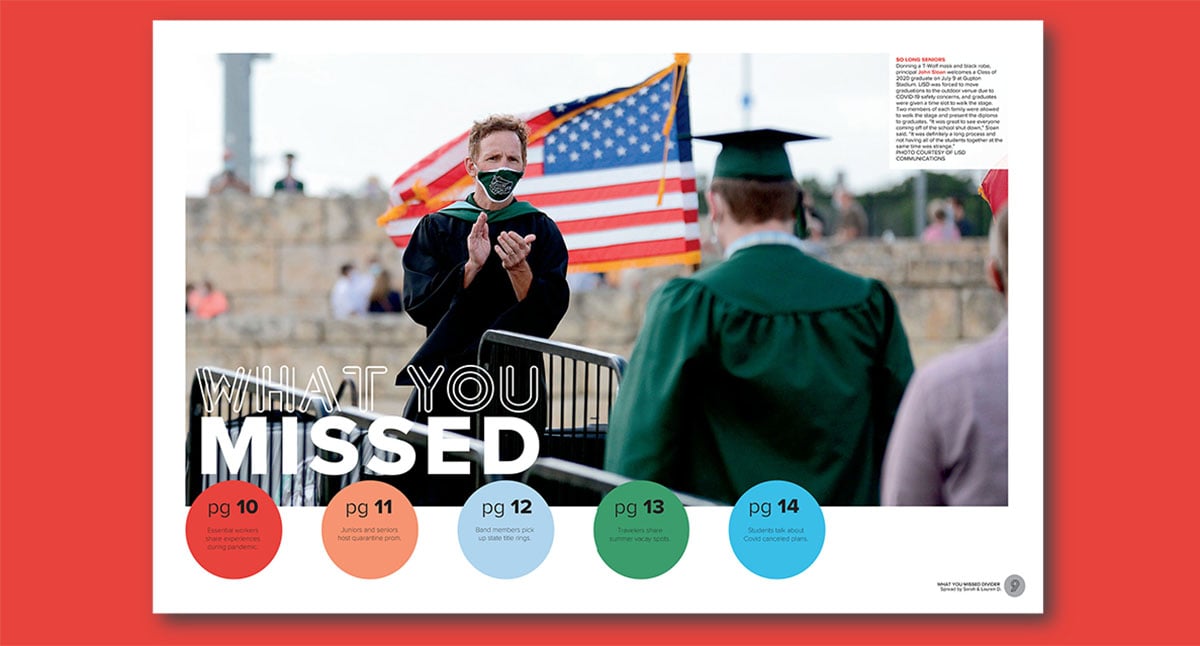 The beauty of spring delivery is getting those precious yearbooks into the hands of buyers, all before the year ends. The downside is what gets left out.

But you can turn that negative into a positive quite easily. Consider adding a "what you missed" spread in the next book.

Placed early in the new volume, this type of spread wraps up the end of the previous school year. With significant events like prom and graduation at the end of the semester, a spring wrap-up spread provides needed attention to those deserving topics.

It's also a great way to give some love to clubs and sports who are more prominent in the spring. Performing arts organizations like choir, dance and band often have late spring and end-of-the-year shows. Sports teams might win conference championships or make the playoffs, well after the yearbook deadline. And many clubs compete in late spring and into the summer. A what you missed spread gives staffs an opportunity to showcase these groups and events.
If there are numerous big events, consider featuring more than one spread. In 2020, St. Thomas' Episcopal School devoted an entire spread to the theatre program which performed overseas during the summer. In their 2021 book, Cedar Park High School made a what you missed section at the start of the book, featuring 10 pages of content from April to August (see division page above). Prairie Trail Middle School also featured 14 pages of spring 2020 coverage, including COVID-19 updates, locker clean outs and yearbook distribution.


As part of their what you missed coverage, Prairie Trail Middle School featured the unexpected locker situation. With the school switching to virtual learning in spring 2020, students left behind books, clothes and other items. Two months later, a dozen teachers cleaned out trash and bagged the belongings of 650 students.

Want to see more examples? From club competitions and prom to sports results and graduation, we have a host of what you missed spreads. Check out more than 15 examples capturing those final moments of spring and summer.
Spring delivery books are wonderful for yearbook excitement and sales. But they're lacking when it comes to late spring coverage. Consider featuring that content in the subsequent yearbook. There's a beauty to that.