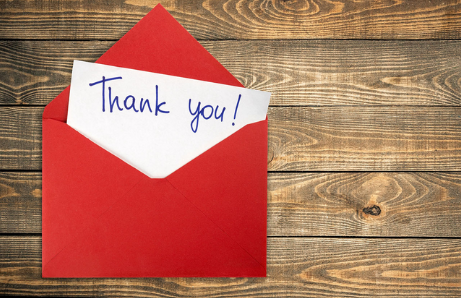 Being thankful isn't just for the Thanksgiving holiday. Whether you're finished with the book or in the midst of deadlines for summer and fall deliveries, spring is an ideal time to show gratitude to yearbook supporters.
The benefits of gratitude have been well-documented by researchers. Being grateful provides purpose and meaning, allowing you to appreciate the good things. Being thankful focuses on positive thoughts and makes people happier. That positive energy can extend to other parts of your life and to people with whom you share the gratitude.
Share the love
As you know quite well, a yearbook doesn't produce itself. It takes writing, editing, photographing and designing to transform an idea into a tangible product. Staffers and advisers do the bulk of the work, but a few other people play a part in the finished product. Taking a moment to thank teachers, coaches, custodians and others for their support is an important part of the yearbook process. Here are a few ideas we're grateful to share.
Staffer appreciation
Showing appreciation for your staff provides the perfect starting point for sharing gratitude. Hand-written thank you notes to staffers can highlight their contribution to the book and recall the best and funniest memories.
During her tenure at Cypress Creek High School, adviser Samantha Berry crafted hand-written letters for each staffer every February. While the process was time-consuming, staffers appreciated the personal touch and it paid dividends with the final deadline. "They bawled like babies and kept the letters visible at their computer stations," Berry said. "The staff enjoys it because they're generally in a funk and showing love and gratitude to the kids lifts their spirits."
At Hendrickson High School, adviser Kari Riemer creates needlepoint art for each of her seniors. Each piece features a different quote that connects with the staffer's personality or life, a quote that Riemer says "makes me think of them." Each work takes five to 15 hours to complete and has become a beloved tradition for Riemer's seniors.
2017 Hendrickson High School seniors Kylie Ruffino (left) and Presley Taylor show off their needlepoint gifts from adviser Kari Riemer. The end-of-the-year present has been a Talon tradition for four years. Photos by Kari Riemer
Thank you notes
Having the staff write thank you notes to supporters is a meaningful way to show and teach gratitude. Send notes to every faculty and staff member, including custodians, secretaries and administrators. Strive to make the notes as personal as possible, connecting staffers with the adults they worked with most. Thank custodians for late night clean-ups and opening locked doors. Thank coaches for providing scores, stats and player interviews, even if they didn't always do so quickly (let's not mention that part). Thank secretaries for answering a million yearbook-related phone calls about school pictures, senior ads and yearbook orders. Don't forget about the teacher who let your staffer into the room for a fourth or fifth interview.
Anderson County High School's staff writes thank you notes to each faculty and staff member after the book is published. "The teachers love it, and we always get responses from them about it being 'the best mail in their box that week,' " adviser Jennifer Clotfelter said. Photos by Jennifer Clotfelter
Thank you gifts
If it's within your budget, consider upping the ante for people who were life-savers. Add a piece of candy to the thank you, with a fun note like "It was SWEET to have your help this year." Or have staffers deliver thank you cupcakes or other baked goods they made (this is a bonus opportunity for bonding time). If it's a coach who was incredibly helpful, consider printing a few of the best action photos and possibly, even enlarging or framing a few.
After the Brenham High School staff finished their 2018 book, they created fun thank you notes with a lollipop attached for faculty members. Faculty members appreciated the gesture and it brought in a few extra yearbook orders. Photo by Kim Lynch
Social shout-outs
Let others know how appreciative you are of your school community. Share the thanks on social media like Instagram, Facebook and Twitter. Show some love for helpful teachers, custodians, coaches and administrators. Have staffers take pictures with the supportive adult and the finished yearbook, noting how it wouldn't have happened without their help.
It might be a small gesture, but a polite expression of thanks is valuable to staffers and the school community. Sending thanks will make students more appreciative of the yearbook and create a positive vibe around the book. Showing gratitude is a meaningful way to let supporters know you appreciate their help with the yearbook. A little gratitude goes a long way.