With a fresh perspective and new year ahead, it's time to commit not only to the production, but the sale, of your yearbook. Check out these five strategies to get your staff going, plus a bonus video you can use to spread the word today!
For those of us who struggle with indecisiveness—or worse, "Decidophobia," the literal fear of making decisions—2020 was not the year to work on our issues. The year of cancellations due to COVID-19 forced all of us to get way too comfortable putting off decisions both big and small. Graduations, school dances, entire sports seasons—so many of the events that routinely fill the pages of our yearbooks—were gone, leaving yearbook advisers everywhere asking the same question: "Where do I go from here?" If you're still struggling with that question, we're here to coach you through it, and it all starts with marketing your yearbook.
Yes, it's time to start marketing your yearbook!
If you've been reluctant to open your school store on Balfour.com or to begin taking orders, now is the time to plan and orchestrate your sales efforts. Without getting into the psychology of extrinsic motivation, it's easy to see how selling copies of your yearbook increases your motivation for completing it. It's no longer a question of "if we'll have a yearbook" but "when we have a yearbook," and that shift in mindset is a powerful motivator. Here are five tips (including a video) you can use right now to start spreading the word that your yearbook is not canceled.
1. Market internally first
Take a moment and draft a couple of emails letting key players on your campus know the yearbook is happening and you need their support. Your internal contacts should include a list similar to following: campus leadership (principal, assistant principals, counselors, activities director), front office staff, head coaches and club sponsors, class officers and PTA/PTO leadership.
Below is an example email script you can send:
On behalf of the yearbook staff, I want to let you know the 2021 yearbook is happening. Although the book may look different this year, our staff feels it is vitally important to tell the story of our students during this year like no other.
There are several ways you can support our yearbook becoming a reality:
Spread the Word! If you have an opportunity to speak directly to students or parents, let them know the yearbook tradition is happening, and they can purchase their copy at Balfour.com.

Be an extension of our team!

Keep your eyes and ears peeled for unique stories and photo opportunities. Share any images you capture with our staff using the ImageShare mobile app / online

/ [insert email address].

Purchase a yearbook for yourself or a deserving student. Our yearbook operates as a small business, and we celebrate every yearbook purchase. Whether you'd like a copy to show what teaching during a pandemic looks like or you'd like to gift to a student, we would greatly appreciate any and all support.
2. Use new communication channels
How is your school communicating with parents and students this year? Many schools have adopted new methods like mobile apps and alert systems for reaching the community, giving you another outlet in your yearbook marketing. Using this new outlet might mean adjusting your messaging to sound more informative and less marketing-heavy. Try something like this:
Your year. Your stories. Your Yearbook.
It's time to reserve your 2021 yearbook! In a year like no other, there's one thing we're sure of: your stories are still worth telling. The yearbook is likely to be the only keepsake you'll keep with you to remember this historic year. The yearbook staff is working hard to commemorate the year, so be sure to grab your copy at Balfour.com.
3. Open your Balfour.com store for safe, contactless payments
If you have never sold online before, now is the time. Having a contactless payment option means not having to rely on in-person sales, which may be impossible if your campus has remained closed. Best of all, buyers with PayPal accounts can take advantage of PayPal's interest-free installment option to split payments over time or apply for PayPal Credit, all from your Balfour.com school store.
4. Use eMarketing to reach buyers
Balfour offers advisers a free email marketing tool inside StudioBalfour. It's easy to use, customizable and only requires uploading a student list with email addresses. Our smart marketing system allows you to only target non-buyers and gives you communication tools for staying in contact with those buyers after the sale. Talk to your rep or account executive to learn more.
5. Say it with a video!
Have fun with video marketing, and send a message straight from your staff. If you haven't pressed play on the video above, check it out now. This video from the Bowie High School yearbook staff in Austin is available for your staff to use or to inspire you to create your own. Click here for a copy of the script.
BONUS: The video above is now available in an eMarketing template so you can send it to your non-buyers today. Look for the template named "Yearbook is NOT canceled (Video) in the eMarketing template library.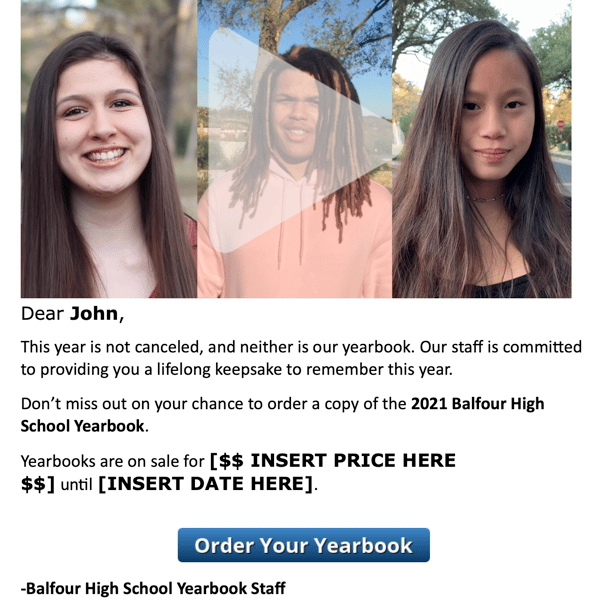 No matter where you're at in your yearbook production, now is the time to commit to your marketing and sales. It's 2021, and that means we're saying goodbye to the year of delayed decisions. This year is not canceled, and neither is the yearbook.