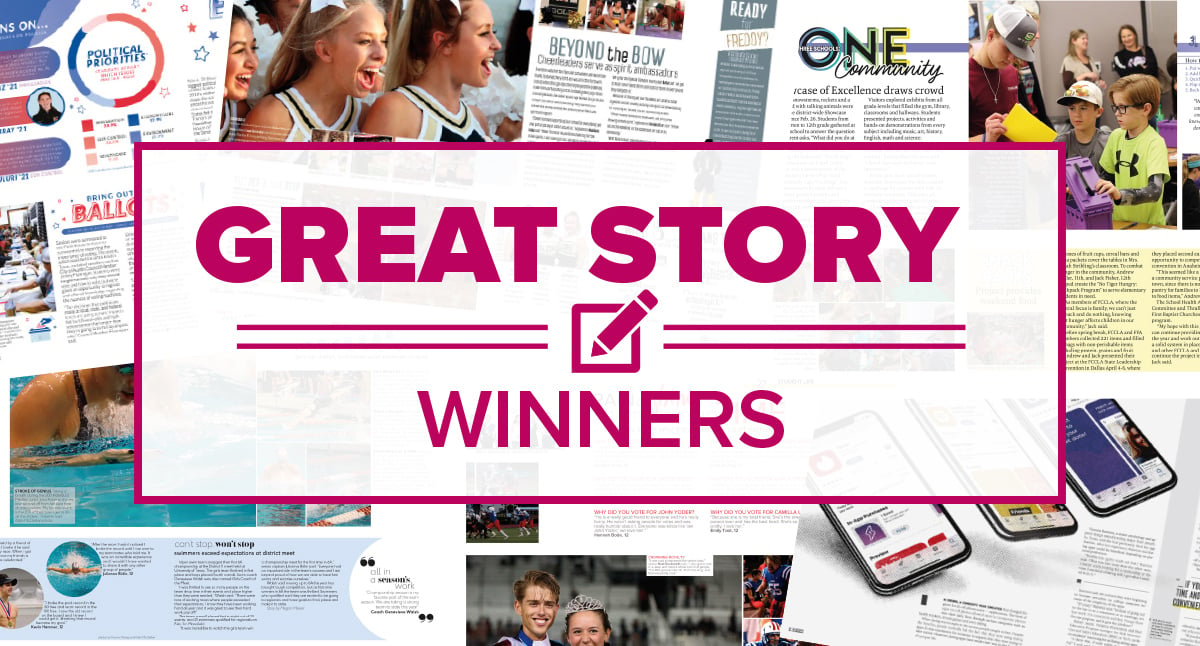 We were blown away with all the entries in our first-ever Great Story contest. From feature stories to personal revelations, the stories were heartfelt and heartbreaking.
Thank you to everyone who entered the #greatstory contest. We loved reading your entries and it was incredibly hard for the judges to choose a winner. It's clear this pandemic has affected all of our lives, in big and small ways. Here's the winning story and finalists.
Great Story Winner
$100 gift card
"Greater than Gold"
by Hannah M.
Victor Valley Christian School
Victorville, CA
Why are we so eager to get out of the wait? We wait for babies to be born, we wait to lose our first tooth, we wait to graduate, and we wait to grow up.
We grow in the wait. In our waiting we have grown, we have grown to love a little harder, we have grown to have gratitude, we have grown to enjoy simplicity, and we have grown to appreciate the life that once was.
In wait we need to rest our bodies and minds so that when we are ready to grow, we are rested and replenished for the fast paced life ahead. The fast pace life where we get fast food, we get in the fastest lanes on the freeway, we find the fastest routes, and even then we aren't fast enough for our fast pace life.
The world is waiting and growing and so am I. I realized what's the hurry?
If I try to hurry up, the waiting and grow too fast I forget—and I don't want to forget. I don't want to forget this COVID-19 not because it is a pandemic, but because I have had better conversations with those who I have talked to over the phone rather than when I did normal life with them. Maybe because now my thoughts are gathered and we have nothing to give but time, but time is richer than any amount of gold. The value of time was unrecognizable until now.
During this time we will wait and we will grow.
Great Story Honorable Mention
$50 gift card
"Two Emails, One Phone Call, Thirty Minutes"
by Kaya B.
North Kansas City High School
Kansas City, MO
Monday, March 16th. Two emails, one phone call, thirty minutes. My sophomore year was over.
When I first heard the word coronavirus, I didn't think that it would ever impact my life. After all, it was happening all the way in China. How could it ever get to Kansas City? I was dead wrong.
Spring break was in the works and I was ready to kick back and relax. I had noticed that some schools were closing because of corona, but, again, I was oblivious and didn't think much of it. Then, the phone rang. It was a message from my school district telling my family that school was closed for two weeks. After that phone call, everything happened all at once. My mom checked her email and my church was closed for at least two months. I checked email and my contest for orchestra was also cancelled, which I was really looking forward to.
In the span of thirty minutes, two emails and one phone call grabbed hold of everything that was important to me and yanked it right out of my life. I sat on my bedroom floor for an hour, crying and thinking about why this was happening, my bright pink walls mocking me while I sobbed. By Friday, school was closed indefinitely.
I had never really appreciated all the opportunities I had, but I realized how much I had taken for granted in my life up until this point. I don't think anyone realized what corona would bring and mean to all of us, but it taught me to be safe and to always appreciate everything you have in the moment. After all, Janet Jackson said it best. "You don't know what you got till it's gone."
Great Story Finalists
"The Paint Palette of Us"
by Melissa C.
Quartz Hill High School
Lancaster, CA
Orange is all I see. That and my hair blowing insanely around my head. My mother huddles close to me, hoping I could be her protector against the breeze of the Antelope Valley. I want to embrace the wind, though, not shield myself from it. After living between the kitchen and the living room, this gust of air is the freedom I longed for. The poppies stretch on for miles and miles, creating a sea of vibrancy at a time when everything seems grey. They're blooming for a world that cannot admire them, making them all the more admirable.
Purple is screaming from my bedroom, raging war against the brown walls, forcing themselves onto the plaster. I had never quite enjoyed the browns closing in on me at night. Now, though, with time to spare, I spend hours in my room, building arm muscle as I make my way across all four walls, occasionally dancing to the music that is playing. The walls encase me in a world of vibrancy at a time when everything seems grey. They display their colors for people who will only love them through a video chat, making them all the more lovable.
Pink sprawls across the clouds. I look towards the sky when my boyfriend leaves our virtual date for some snacks. To my surprise, the sun is just beginning to set, creating violently silent explosions of hues in the world above. The sky is a rainbow at a time when everything seems grey. I force everyone in the family to see it before it disappears. It's a show for people who only seem interested in TV, making it a show all the more worthwhile to watch.
I realize life is a world of color, beautiful even in chaos, worth living even at home.
"Friends Hold Coronavirus Birthdays"
by Sarah L.
Southside High School
Fort Smith, Arkansas
Sporting a cow-print cowboy hat in celebration of turning 18, Northside senior Maddye Hall watched from her front yard on Apr. 29 as her friends drove by to wish her a happy birthday. Like many students, Hall celebrated her birthday during a global pandemic.
"Planning Maddye's birthday drive by was a little difficult because some people couldn't come due to either corona or because they had other plans. We didn't have many people, but a few is better than none," friend Mckinlee Hunt said. "I felt like planning this drive by was needed because corona took away the end of our senior year, and not getting to see your best friends on your birthday isn't something I wanted my best friend to experience. I feel really good about how it all played out and I'm really glad Maddye liked it."
Starting at 5:45 pm, cars started to line the front of Hall's house. Friends rolled down their windows to sing happy birthday, hand her presents, or hold out extravagantly decorated posters. Lasting only around 10 minutes, the drive by reflected the effort many students put into maintaining normalcy by celebrating events. Hall and six other friends drove to Bonneville Elementary school after the drive by and parked in a circle. Sitting in their trunks, the group held an unorthodox birthday party, with Hall providing slices of cookie cake in the middle.
"We ended up hanging out in my elementary school parking lot six feet apart, talking and laughing and eating cake, and it was one of the best birthdays I've ever had. Even though it's a rough time, my birthday ended up brightening my quarantine and I'm thankful for that," Hall said.
"Corona as an Essential Worker"
by Isabela J.
Texas City High School
Texas City, TX
Slowly rolling up to the stoplight, he looks at the empty intersection and absorbs the stillness surrounding his truck. Although it is normally this empty when he leaves for his day shift around 4 a.m., it feels eerily quiet as the thoughts of the coronavirus lingers in his mind and he remembers the added layer of danger added to going to work now.
Kevin Johnstone works for Marathon Petroleum Company in Texas City, and has been a shift supervisor since 2005 but has worked in refineries for the last 32 years. After having finished radiation treatment last year, going into work could result in him contracting COVID-19 more easily.
"[I] oversee several positions that make [petroleum] products from different units in the refinery where ultimately we blend these products to make the gasoline and diesel, our most recognized products to the general public," Kevin said.
Because of the wide demand for these products, many refinery workers have to continue going to work amid the pandemic, risking those who have pre-existing health conditions or compromised immune systems like himself.
"My employer takes any health issues seriously, I really want to believe that," Kevin said. "I do believe they could have communicated a bit better on plans for the pandemic."
His employer has implemented social distancing and masks are now required during relief time and ride-sharing, but some of his family members are still concerned for his safety.
"I feel that if they are going to have to report to work more should have been done to protect them, [such as] testing and the lockdowns they do on hurricane duty," his wife Cheryl Johnstone said.
Although they differ in opinion about the company, both echoed the same fear.
"My biggest fear is any of my family contracting the virus," Kevin said.

#greatstory
We hoped you enjoyed reading a small selection of submitted stories. It was truly a honor to host this contest and share beautiful writing in these difficult times. Thank you to everyone who shared a story. They are truly, all great.