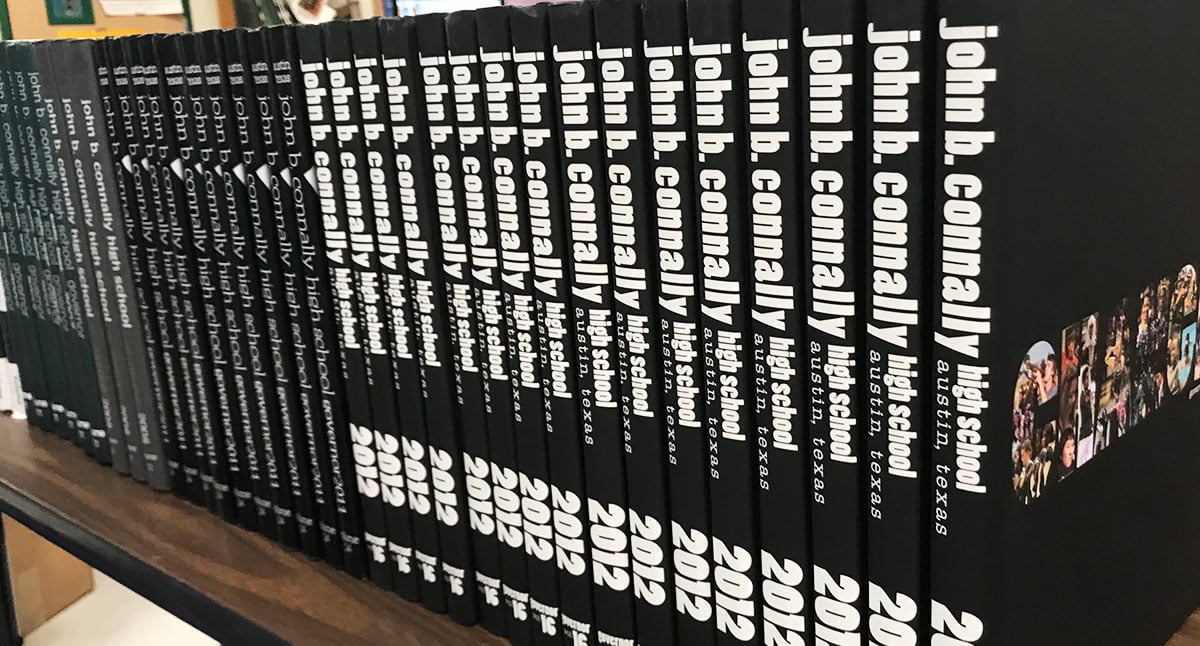 Every year advisers face the decision of how many yearbooks to order. Sales are not always robust in January when final counts are due. There's a delicate balance between ordering extras for late buyers and being left with mounds of unpurchased books. After a few years, those extras can pile up. It's time to get creative to clean out the yearbook room.
1. Sell extras at games
Football and basketball seasons are prime times to sell old books, especially to parents. The Homecoming game is an ideal night to sell with alumni returning to town. Middle school programs also could attend high school events to attract buyers who missed out when they were in sixth, seventh or eighth grade.



Those extra yearbooks stored away could become a small windfall if marketed smartly. Sell old books at major events and advertise extras on social media. Photo by Paige Hert
2. Market old books on social media
Use Facebook, Instagram and Twitter to reach a wider audience. Advertising old books on social media platforms spreads the word to current students and alumni. Northgate High School posted photos of older books on Facebook this summer and received a strong response. Asking for donations, they raised more than $600 with several people giving $20 or more. Orange Grove ISD also advertised on Facebook, offering books from as far back as 1972 for a discounted price. The staff raised about $2,000 from the sales.
3. Offer boxed sets
Consider offering packages so students can pre-order this year's book and purchase past high school books. Setting up a table at registration showcasing the books can draw attention to current sales and help with previous books. Adviser Andrea Obranovich began offering senior packages at Robbinsdale-Cooper High School last year to help with her back inventory. "We're a Title 1 school and there are lots of kids who seem to only buy their senior year," Obranovich said. "It's helped get rid of at least some stock."
There's also a captive audience on distribution day. Take advantage of their proximity and yearbook excitement by offering bundled sets of previous years' books. Disarm the "I'm only buying my senior yearbook" philosophy by giving seniors a second chance to have those freshman, sophomore and junior memories. Consider featuring a freshman and sophomore bundle for the juniors who missed out. One important note about bundling: weigh discount discussions with the staff for what would make the boxed sets enticing, but not erode early purchasing for future sales.
4. Donate extras
Provide books to the administration, especially principals, assistant principals and student resource officers. Yearbooks are a great resource when needing to recall old events or identify current and former students. In addition, offer a set to the school library, the counselors' office and the athletic director.
If there are numerous old books, consider offering them to faculty members as well. At B.F. Terry High School, adviser Denise Adams offered teachers books that were more than five years old. "So many came and they had great things to say about owning a yearbook," Adams said. "Now I know where to go next year for promo videos. Plus, I told them the price of the yearbook was spreading the word in their classrooms about getting a book. [It] worked out."
In the community, especially in small towns, donate yearbooks to local institutions like the city library, history museum and police department.



Turn old yearbooks into artwork and decorations. (Left) Allen High School's art students created sculptures out of old books; (Middle) Prince of Peace Christian School transformed pages into holiday decorations; (Right) At the plant, Balfour employees built a Christmas tree out of stacked books in 2016. Photos by Kelly Juntunen, Joanna Lawson and Amanda Reynolds
5. Turn books into art
If you've exhausted all your sales and donation options, maybe an artistic twist is the way to go. Donate books to the art department to use as a new medium for art projects. In 2015, the Eagle staff donated old books to art classes which turned them into creative sculptures. The art department then showcased the efforts in a trophy case at Allen High School.
You could also use the books for your own art and educational projects. Use individual pages or spreads as backgrounds for journalism bulletin boards. Laminate individual pages and use as placemats for end-of-the-year banquets. Cut out great photos for posters on photo composition and photography tips. Better yet, make the photo project a lesson for journalism students, photographers or first-year staffers.
At the holidays, use old books to create decorations. Layer stacks of books in a circular pyramid fashion to create a yearbook Christmas tree. Add lights for additional holiday touch. Prince of Peace Christian School's Joanna Lawson turned her pages into Christmas tree sculptures. Consider even giving the trees to teachers or accepting donations for the artwork.
Since you're ripping up books anyway, use the covers to create a collage wall of old books. Consider framing the covers or just running side-by-side rows and columns. A wall of yearbook covers in the hallways could become a great marketing piece and conversation starter.


The Woodlands High School recently framed covers to display in the classroom. Another option is to run without frames as a collage wall; consider hanging them in a hallway as a marketing tool. Photo by Kel Lemons
6. One final tip:
If you still have books left and would like to recycle them, you must remove the cover, glue and stitching. We recommend trimming about one inch from the gutter to avoid remnants of glue or stitching. The rest of the matte or glossy page can be recycled.
The goal is always to have a sold-out yearbook. But when there are leftovers, we hope these tips will help you make the best use of extras.