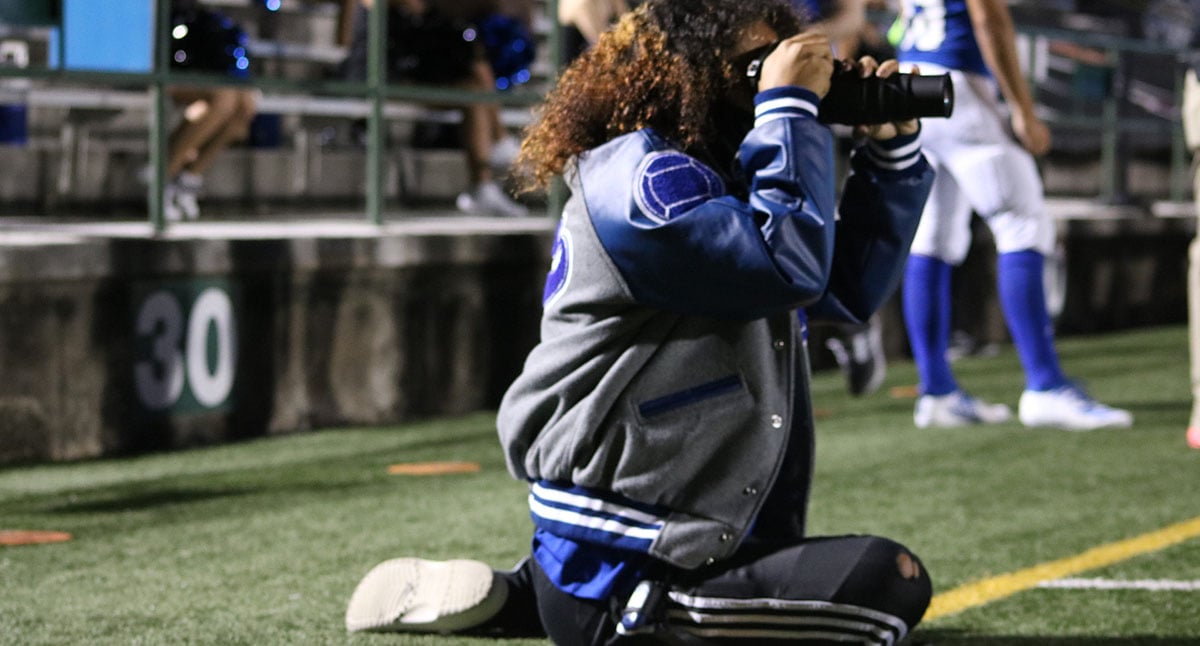 First day. New classes. Textbooks. Welcome events. Volleyball matches. Friday Night Lights. The first weeks of school are a whirlwind of new activities, classes and sports to cover. And we need knowledgeable photographers to capture every moment.
It's a question new advisers often ask: What should I teach first? With the prevalence of back-to-school events, it makes sense to focus on photography first. Let interviewing, writing and design take a back seat—let photography drive.

Camera overview
Show your staffers the cameras and lenses available to use. Walk them through the proper way to hold the camera and unacceptable behavior (swinging the camera, leaving it unattended, etc.). Make sure they know where to locate memory cards and batteries.

Equipment sign-out
Instill in your students the responsibility you're bestowing on them. Cameras and lenses are expensive and should be treated with the utmost care. Have a paper or digital system for signing out equipment. An acknowledgement of financial responsibility on the sign-out form is essential for broken or lost equipment. Here's a sample equipment sign-out on paper as well as a Google checkout form you can copy.

Understanding settings
Even if you're unfamiliar with apertures and shutter speeds, give your photographers general advice on camera settings. Share Balfour's photo basics presentation (log into StudioBalfour before clicking link) or check out Penn State's interactive photography site. If you prefer video, watch our resident photo expert Mark Murray talk about shutter speeds and apertures or utilize his lesson suggestions for fun ways to teach photo basics. Your staffers will have a blast bursting water balloons and freezing the fun-drenched action.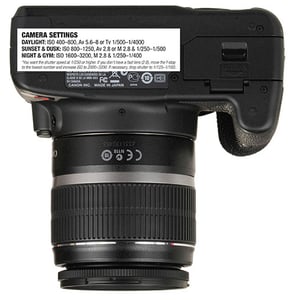 Sports camera settings
For sporting events, we have a go-to cheat sheet for camera settings. Tape it to the bottom of your cameras and your photographers will have properly exposed photos in any setting. Consider dedicating class time to analyzing pictures to discuss exposures and composition. If you have Adobe Bridge, the metadata panel can be instrumental in understanding why images are too dark or blurry (Oh, the shutter speed was 1/30th of a second, that's why the players are a blur!).
We also highly recommend a copy of our shooting sports poster. The two-sided poster showcases fall, winter and spring sports and offers advice on where to stand and what lenses to use. Ask your rep to order you one! You can also check out our tips for fall sports and winter/spring sports or the shooting sports slideshow on StudioBalfour.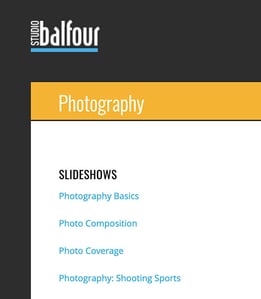 How to take good photos
Some general rules of thumb will guide new shutterbugs: move closer, try different angles, capture reactions. Gently encourage them to avoid posed photos; it might mean hanging out in a class for a few minutes before shooting to get students comfortable with a photographer being around. Also, check out our slideshows on photo coverage and composition on StudioBalfour.

Click away
Most importantly, get out there! Start snapping. The beauty of digital cameras is photogs can quickly assess and adjust settings as needed. Before you know it, your rookie photographers will be seasoned veterans.

Main photo: Photographer Ari Cottrell takes pictures on the sidelines of a North Mesquite game in 2020. Photo by Kristen Haywood