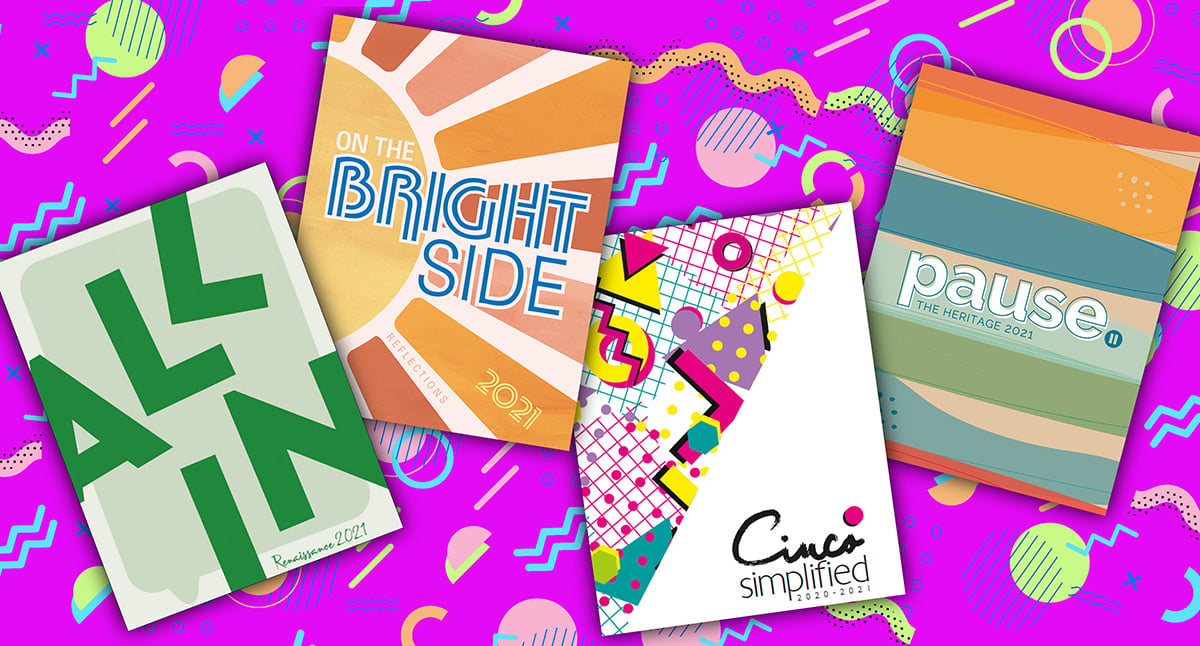 As schools prepared for 2021 yearbooks, they faced a gloomy realization: the pandemic was far from over. Refusing to wallow in that depressing reality, a fascinating trend emerged. Yearbooks featured energetic themes, bold colors and fun graphics.
It was like staffs across the country had made a pact—we're not letting COVID-19 ruin everything. Despite all the frustrations and hardships, the yearbook will be FUN.
In an ode to that wonderfully optimistic outlook, we share 10 designs that put the 'YEA' in yearbook in 2021.



Westfield High School

The colorful blobs, squiggly lines and bright colors embodied the fun aspect.



Cedar Ridge High School

Reminiscent of Memphis design, circles took center stage in the Excalibur 2021, with additional dots, stripes and patterns in bright colors.



Bridgeland High School

Using bold colors, the Kodiak 2021 featured a decorative, all-caps script and hand-drawn elements for a fun vibe.



Santa Fe Trail Middle School

The grungy bold with a question mark motif gave this Kansas book an edgy, sassy look.



Anderson County High School

Bright colors dominated the Reflections 2021, a sunny visual approximation of the verbal concept.



Peterson Middle School

Geometric shapes and a sans serif font characterized this bold, decorative approach.



Westwood High School

Unusual shapes, graphic details and prominent colors created a whimsical feel for The Heritage 2021.



Foster High School

Bright hues, an all-caps script and hand-drawn illustrations come together for a party-like vibe.



Cinco Ranch Junior High School

A true example of Memphis design, this middle school's use of bold and colorful shapes has a
Saved by the Bell
vibe.



Suncoast High School

A colloquial tone comes together through conversational bubble graphics, a handwriting font, and detailed illustrations in fun colors.


Want to see more? Discover more visual celebration by downloading the PDFs from these volumes, available with our digital versions of 2021 yearbooks. This visual bonanza proves that in 2021, yearbooks just wanted to have fun.