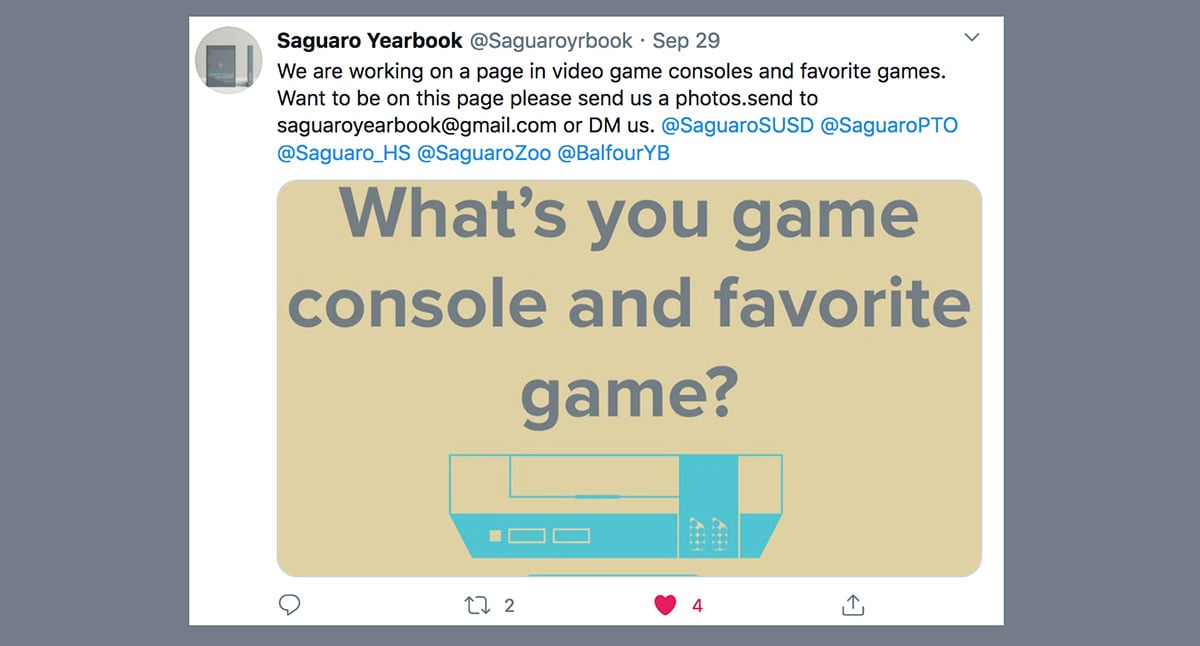 This is the Year of Crowdsourcing. We need all the help we can get to gather interviews, stories and photos. If you're struggling with dismal responses, here's how to strategize for better results.
The "It takes a village" mantra is an understatement in a pandemic world. Yearbook staffs desperately need students, parents and teachers to contribute, especially for 100 percent virtual campuses and schools with significant remote learning numbers. Unfortunately, not every school is seeing robust responses to crowdsourcing requests. Here are a few strategies to improve your numbers.



Canva has made it easy to make compelling graphics. Yearbook staffs, like those at Texas A&M and Saguaro High School, are reaching out on social media to crowdsource images and content.


Reach out in numerous formats.
Get the word out to your community in as many ways as possible. Take advantage of the eMarketing program to send customized and attention-grabbing emails. On social media, create Canva graphics and encourage staffers to share posts to increase views. Also, tagging other important school groups can increase the post's circulation.
As noted in last week's marketing post, utilize social media accounts to target specific audiences. For example on Facebook, Akins High School adviser Sean Claes called on parents across the country to help yearbook staffs fill pages. The post was shared 42 times and led to a Spectrum news story.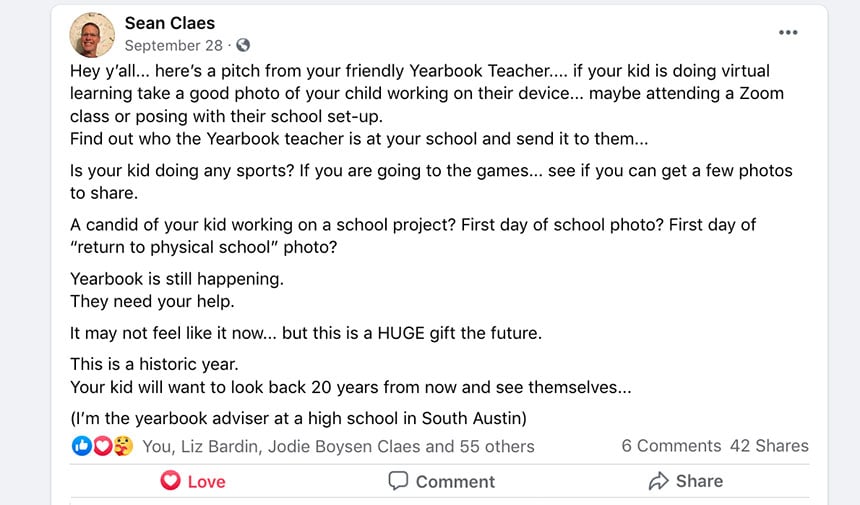 To improve participation, accept responses in a variety of formats: email, direct messages and Google surveys, sheets and drives. At Saguaro High School, the staff received almost 400 responses to their survey request, including learning of 19 students who ride horses, motor cross and rock climb. Also, don't forget about advertising ImageShare, EZPix and EZPix Events for photo submissions.
Think creatively about how else you can crowdsource content. Ask teachers about classroom photo opportunities or snap images themselves, even if it's just the Zoom meeting. For story content, implore teachers to ask a yearbook question as a warm-up exercise. This is an easy class starter and a potential daily grade. If the teacher is really supportive of journalism, consider asking for 5-10 minutes to fill out a quick survey. (This is when strong faculty relationships play a role. Also, food and gift cards are also helpful motivators, see more below.)
Another avenue is to reach out to English and art teachers for truly collaborative submissions. English classes could write personal essays about how the pandemic has affected their lives or another topic connected to this school year. The best responses become profiles in the book, students practice their writing skills and English teachers have an easy grade. Art students could draw and paint for a variety of topics: elections, coronavirus, stress, remote learning, etc. Similarly, tap graphic design students to create visuals with computer programs.
Collaborate with movers and shakers.
Go beyond teachers for collaboration efforts. To truly have a successful yearbook, we're going to need support from those who lead and influence our campuses: administrators, parent teacher groups and booster clubs.

Ask principals to email faculty members to facilitate surveys, starter questions and photo ops. Connect with parent teacher groups and booster clubs for photo submissions and reaching a larger audience. Work with all three groups to promote crowdsourcing help on their social media. Nothing holds more weight than a request coming from the principal, school or district's official social accounts.
Offer incentives.
Advisers have quickly learned incentives guarantee a stronger rate of return. Akins High School and Wimberley High School encouraged spirit day and other photo submissions by offering a free yearbook to a lucky winner. KCC Southeast Middle School staff brainstormed ideas and settled on a weekly prize for photos submitted—a $5 gift card or a Dress Pass. The Orange County staff was struggling with responses until they offered pizza delivery for a food survey.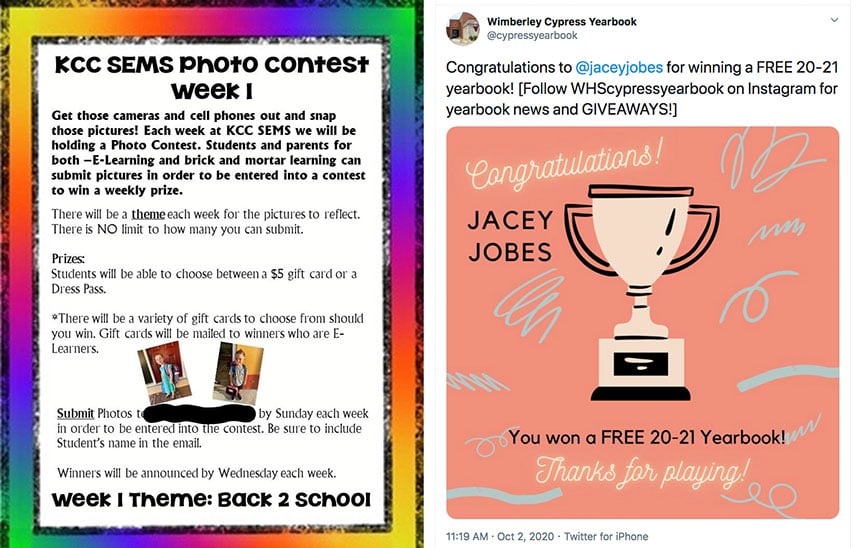 Collaborating with parent teacher groups is another way to improve crowdsourcing. At Pearland Junior High West, the PTA encouraged students to decorate a mask to match their personality, entering all participants in a drawing. All photos were then shared with the yearbook staff. At Atascocita Springs Elementary, the PTO donated classroom materials to encourage teachers to submit photos. Each week, they've held a drawing, announcing the winners on Twitter. (Like KCC Southeast, they also offered a fashion pass with the winning teacher allowed to wear jeans in August and September.)
Don't give up.
We know it's a tough year to create a yearbook. Whether it's eMarketing or social media, incentives or admin support, let's find a crowdsourcing strategy that works for you. And remember, it won't be a perfect yearbook. But it will be made with the help of your community.