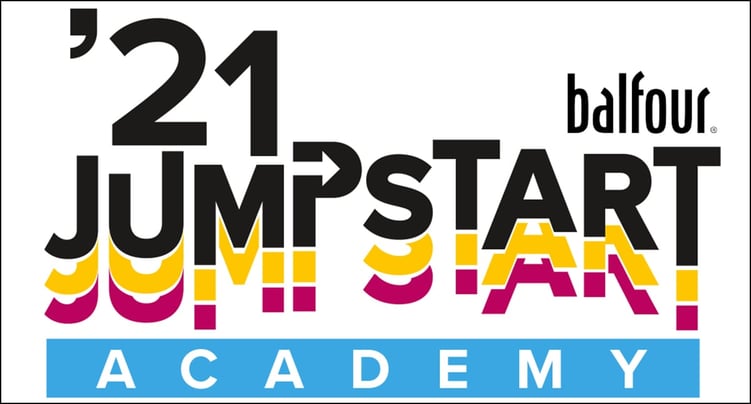 After an epic day of journalism, we're back with more training and content to get your staffs ready for 2021. Each week we're bringing one of our speakers back for another valuable session. Join us on GoToWebinar or on Facebook Live each Tuesday at 1 p.m. CDT. We're calling it Jumpstart Academy!
Jumpstart Academy Schedule

All session times listed are in Central Daylight Time and last 30-40 minutes.
May 5 – Organizing Photos with Adobe Bridge | Mark Murray
Learn techniques to help organize and prioritize all those photos using Adobe Bridge, a product that is included with all of Adobe's other applications. This session is available on demand in our All Access Pass Video Library.
May 12 – Strategies to Stay Connected | Paul Chylinski
Learn ways to keep your staff involved and connected in these social distancing, remote learning times. This session is available on demand in our All Access Pass Video Library.
Your yearbook cover serves a purpose. You can make a GREAT one by following the law. Let's talk about what to include on the cover and how to upgrade your brainstorming processes for success.
May 26 – Before & After Designs—Beyond the Reveal |
Kristi Rathbun
The "reveal" is always the best part of any remodeling or makeover show, but the bulk of each episode is all about the work. From the demolition, through the surprise challenges to the final product, design is a process. We'll take a look at a few spreads from their initial designs through the painstaking edits to the finished product.
June 2 – Build a Happy, Thriving Program |
Samantha Jo Berry
Building a strong media program starts with culture and ends with culture. Help your students take leadership of the program and watch it thrive!
Cut through the noise. Stop listening to "we've never done it that way" and, in the process, start encouraging everyone on staff to help develop a refined graphic strategy, clever copy writing and content inspiring style. Join us for a look at examples of national winners.
June 16

– The Awful Grace of God | Bobby Hawthorne
I want to tell you the story behind the best story I ever wrote. How I found it. How I cultivated my source. How I broke every rule I was ever taught in journalism school to capture the emotional power of a story I can't read without crying.
A look at creative designs from the professional world with a discussion on how they could inspire student yearbook and newspaper designs.
June 30 – Life in the Newsroom | Mike Damante
Want to pursue a career in journalism? See what it is like working for an actual newspaper, and learn about other jobs in the field, and what is needed to do those. Go behind the scenes with a former employee of Hearst Media.
Join us each Tuesday for a new session! You will need to register each time to access the session. Join us for all of them or the ones that will best jumpstart your 2021 yearbooks.
Want to be part of Jumpstart Academy? Email training@balfour.com with your session idea.