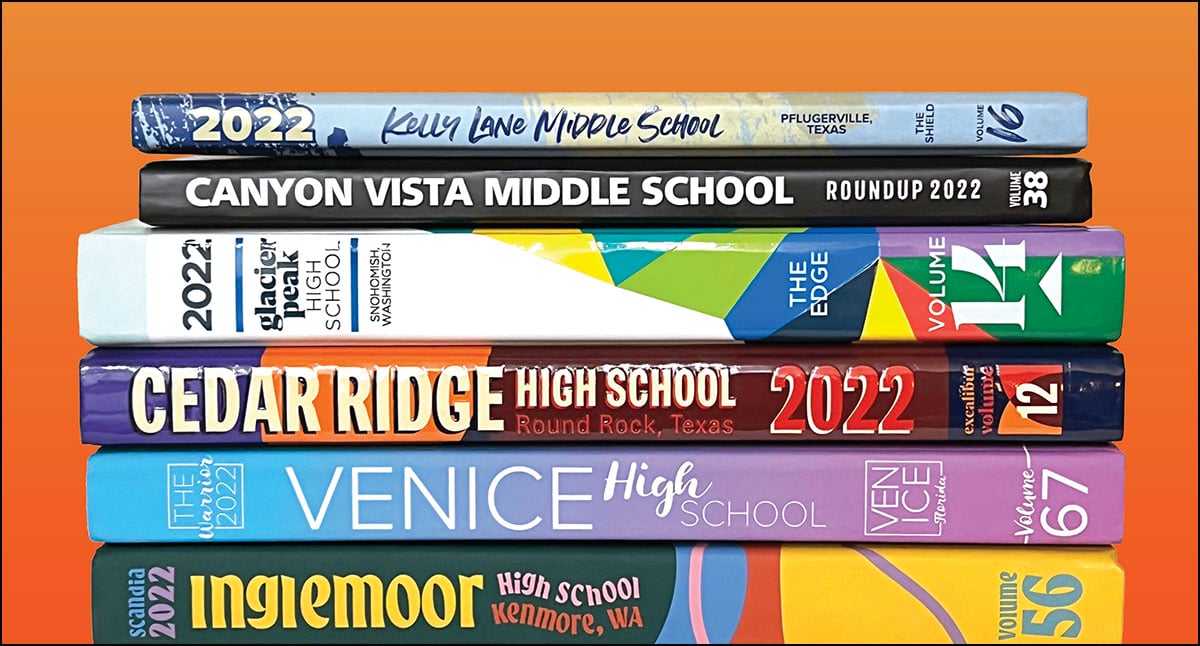 Goodbye summer, hello yearbook! While you might not be ready to be back, we are ready to help you with a new school year and book. Let's walk through checklists and resources for a successful start.
Essentials to start the year
1. Chat with your rep. Discuss pages, budgets, deadlines. Your account executive is another line of support.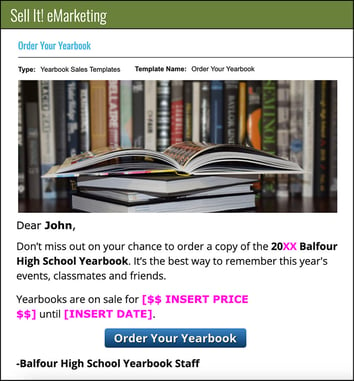 2. Get sales going. Set up the Marketplace Online Store to sell yearbooks. Use the planning worksheet to get started. The Marketplace Store Setup video walks through the process. Your account executive can also assist in setting up your store. Utilize eMarketing, our free marketing tool to reach buyers and boost sales (see example). Check out the full user guide here and our eMarketing video.
3. Walk through yearbook processes. Begin with the ins and outs of yearbook, including camera check out procedures, logging in to school computers and design software, where to find yearbook resources, etc.
4. Teach basics. Spend the first few weeks going over topics they need to know: interviewing, writing, photo, design. (We recommend starting with photography). Hit the most important points and move on. They'll learn more as they get going on the book. Consider having experienced staffers train staff with a yearbook boot camp.
Take advantage of the Balfour slideshows on StudioBalfour to go over topics. There are more than 30 presentations on design, writing, photography and coverage. Also, the Balfour Curriculum features 11 weeks of lesson plans, presentations, worksheets and assessments. Find the slideshows and curriculum under the Education tab in StudioBalfour.
5. Set deadlines and a schedule. Figure out what works best for your staff. It might be mini-deadlines on a three to five-week timeline. It might mean adding a demo day during the design process. Consider implementing worknights for extra time to finish pages.
Get to know your resources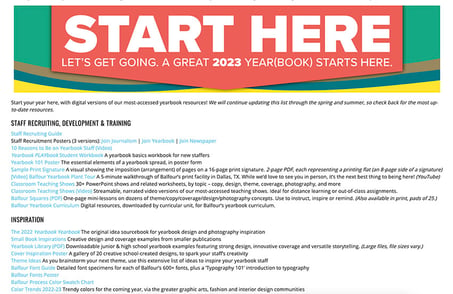 StudioBalfour Our one-stop shop for all things yearbook allows you to add users, set up the online store, explore resources, and access your Encore project. Discover the value with this StudioBalfour video overview. Your account executive can set up a login if you don't have one.
Start Here: Digital Adviser & Staff Resources With more than 40 links and documents, you have access to training, marketing and design resources. Click the Start Here banner in StudioBalfour, or go to the Build a Book tab. (Not to worry, you'll still receive a production kit in the mail soon.)
What to Do When Our yearbook production plan will give you a solid plan for what to focus on each month. Also, check out eight tips to jumpstart yearbook planning.
Encore Resources With more customers moving to Encore, we're featuring weekly videos every Friday through Sept. 30. Staffs who miss the live sessions can watch later on StudioBalfour. We've also created a Getting Started Guide.





Adviser Workshop Videos If you attended the 2022 Balfour Adviser Workshop, you have access to videos all year. Use them in your classroom to teach photography, find fresh coverage ideas and organize your year.
Balfour Exchange We've gathered lesson plans, videos, examples, tips, team-building ideas and current yearbook PDFs. Jump in and explore the Balfour Exchange, or share your ideas and examples.
Balfour Adviser Facebook group No one on your campus truly understands the yearbook world. This Adviser FB group is a great place to talk yearbook, share advice and lesson plans.
It's a milestone year for Tuesday Tips. This is our 10th year to send weekly tips to your inbox. We can't wait to see what it brings. A great (year)book starts here.