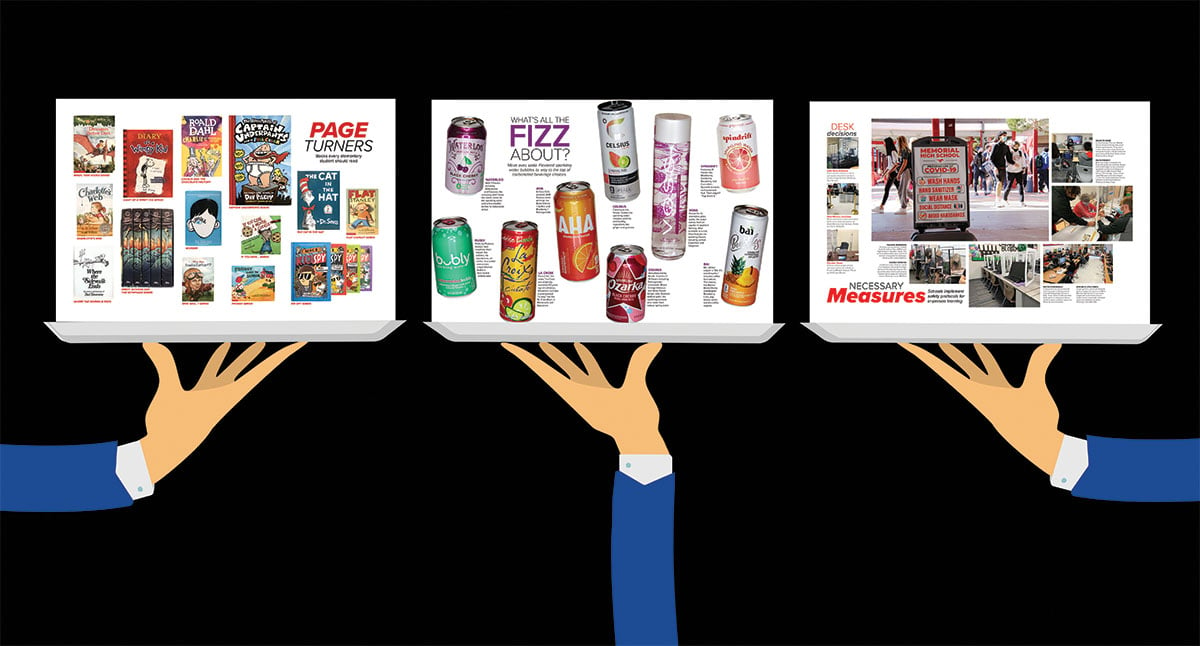 Dinner is served. We're excited to share more delicious news. We've created additional spreads for you. They're all ready to go!
We know this year's been difficult, especially finding all the right ingredients to make yearbook pages come together. In January, we released the first installment of our Ready-to-Go Collection, 14 fully designed layouts. Three weeks later, we added six national spreads to our RTG content. Now, we're happy to share new more delicious designs. Think of it as a third course or dessert.

What are the topics?
We've created 34 pages in total; 17 spreads on 11 topics, with additional versions of three layouts. There are 8-inch and 9-inch sizes to easily integrate the pages into your book. The coverage includes coronavirus-related issues, national events and evergreen topics. The designs include:
Sparkling water Two versions, featuring an assortment of flavored, carbonated water.
COVID-19 timeline A chronological overview of how the pandemic evolved during one year.
COVID-19 classrooms See how schools across the country have implemented safety measures.
Chalk art Ideal for elementary and middle schools, this photographic spread showcases sidewalk art.
Interactive With three options, students can personalize their books to remember the year.
Books A photographic collection of classic books at the elementary, middle school and high school levels. A fourth version features a quiz for high school readers.
Girl Scout cookies An assortment of cookie options.
Capitol siege Moments from the Capitol insurrection, Jan. 6.
DC lockdown A photographic collection of safety measures taken around DC to protect the inauguration.
Inauguration An overview of Inauguration Day activities, Jan. 20.





This Girl Scout cookie design showcases a variety of the iconic sweets, featured in proportional sizes.
Where can I find the new layouts?
The content is available on the Balfour Exchange. This includes the full spreads as JPEGs and the individual photos. The only exceptions are the Capitol siege and Inauguration spreads. Those layouts feature licensed photos available only to Balfour customers, and are available solely in Balfour's design software and StudioBalfour. Staffs can use the Exchange to help with caption and photo credit information for those spreads.

We've also added the spreads to StudioBalfour. This includes JPEG versions of the spreads and packaged InDesign folders with the images. They are available in the Balfour Content Collections under the Build A Book tab.

The photos and JPEG versions of each spread will be made available soon in Encore® and StudioWorks+®. Encore® users will also have templates built into the software with the separate elements on the spread. Encore® and SW+ users who do not wish to wait for images can download photos from the Exchange or from the InDesign folders on StudioBalfour.

After Jan. 6, additional security measures were enacted in DC, including the addition of National Guard troops and miles of fencing around federal buildings and landmarks.
Creating your own recipe
For everyone who prefers to whip up their own creations, we've made all the photos available. Or you may just want to spice up the design with your selected fonts, graphics and colors.

Photos are available on the Balfour Exchange in the RTG folders as well as on StudioBalfour in the Balfour Content Collections. They will be added soon to the software.

During a challenging year, we hope these photos and designs make your planning a little easier. Whether you use the pages as is, create new modules or design original spreads, we can't wait to see your delicious designs. Now, that's food for thought!