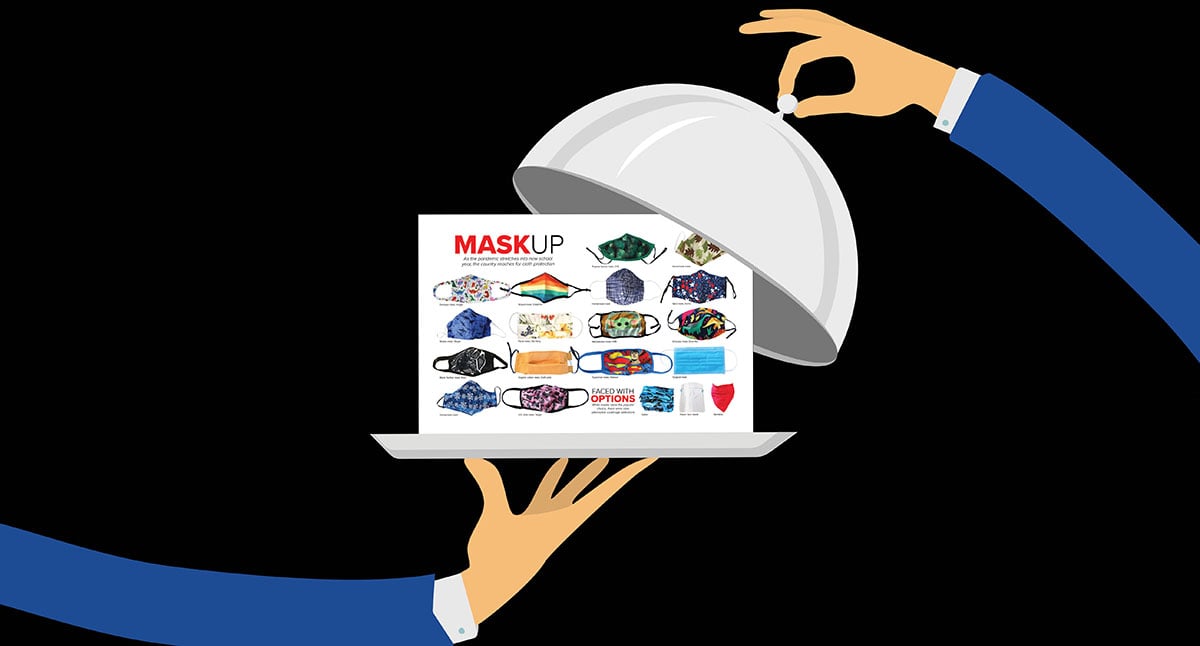 There's a reason we love room service, restaurant dining and fast food drive-thrus. All the cooking is done for us! During this challenging year, we know you've struggled finding all the ingredients to make yearbook pages. We're happy to share delicious news: we've serving up spreads, backgrounds and images for you. And it's all ready to go!

For the last few months, we've brainstormed ideas, researched topics and taken photos. We've created 14 layouts, fully designed with headlines, photos and copy. There are 8-inch and 9-inch sizes so you can easily add these designs into your book.


What's included?
We've developed 28 pages in total; 14 spreads on 10 topics, creating a second version of four layouts. The subject matter ranges from coronavirus-related subjects to anytime coverage. The designs include:

COVID-19 vocabulary A typographic layout featuring several new words added to the coronavirus lexicon.
COVID-19 changes Seven ways the pandemic has changed life.
Social distancing signs A selection of COVID-related signs.
Ready to serve: completed yearbook spreads, content available for staffs Two versions, featuring a variety of face coverings.
Food delivery & takeout An overview of how the restaurant industry has reimagined dining out.
Election results An overall layout covering election night and presidential results.
Election stickers A photographic collection of I voted stickers from across the country. Two versions available.
Board games An assortment of popular tabletop games.
Snacks Two versions, showcasing quick bites.
School supplies Two versions, a collection of necessary items for class and homework.


This snack spread also comes in a version for elementary students.


In this truly collaborative spread, advisers shared their voting stickers from across the country.


Where can I find them?
There are several drive-thru options to make pick up easy. Staffs using our software can access JPEG versions of each spread in the programs. Encore users also have the templates built into the software with the separate elements included on the spread. InDesign users have access to packaged folders of the designed layouts and images via StudioBalfour. Here's where to find the pages:

Encore®:
Library > Graphics > Galleries > 21 Events Spreads

StudioWorks+®:
Content > Balfour Clip Art > Current Events > 2021 Size 8
Content > Balfour Clip Art > Current Events > 2021 Size 9

InDesign:
StudioBalfour > Build A Book > Balfour Content Collection > 2021 Ready-to-Go Content

Balfour Exchange:
We'll also have the content available on the Balfour Exchange.


Making the recipe your own
And for all those cooks in the kitchen, we've got you covered too. We've made all
the photos available so you can recreate or change the layouts for however you want to use them.

InDesign users have access via the packaged spread folders, Encore® customers will find the images in the graphics folder and StudioWorks+® staffs can find them in the clip art folder (follow the same flow as listed above). For those using the Balfour Exchange, there's a dedicated folder for spread photos.

This is also helpful if you want to switch out the typography or colors to match your staff's style guide choices. You're welcome to use all the spreads as is, but we're also excited to see what kind of new recipes you come up with. Happy designing!
Hors d'oeuvre content
We've created nine COVID-19 backgrounds for those wanting pandemic-related backgrounds for their spreads. You'll also find dozens more photos and icons beyond those that appear on the ready-to-go layouts. This includes more election photos, social distancing images and coronavirus illustrations. All of this content can be found via the Balfour Exchange.


More delicious options
But we've left the best news for last. This is only our first collection of completed spreads. We're already at work on a second installment, the next course on this yearbook feast. Let's dig in!