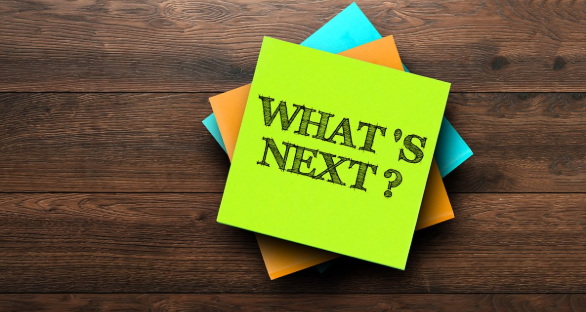 By mid-May, you've probably celebrated with your staff and planned for distribution day. Whether there are a few weeks or another month and a half left, we have a few ways to use your yearbook time for journalistic projects and lessons. These ideas also could be used in your newspaper, photo or journalism classes.
Search your photo archives
There's a valuable resource at your fingertips—all the photos taken throughout the year. From classes to games to performances, students clicked the shutter thousands of times. And yet only a sliver of those images will be in the yearbook. Why not share more photos with the school community?
Have every staffer pick their best 10 photos from the year. Present the images in class for analysis and discussion. Consider sharing them on social media.
Select candid and action photos from games, clubs and events to give to coaches and sponsors. They'll appreciate the effort and support you're showing to their programs.
Choose the best photos to enlarge and display around campus. It's a great way to support the school and bring attention to your program.
Create slideshows of photos from the year to share on social media and at graduation.



Vista Ridge High School features spirit-related photos printed on vinyl banners around campus. The staff also has 16x20 size photos running along the walls of their building, leading to the journalism classroom.

Photo by Jamie Ray
Practice photography skills
The end of the year provides ample time to let students show their creative side with photography. Consider several different photography projects:
Photograph the campus in a new way. Use a slow shutter speed to capture the hallway rush between periods. Take close-up shots of architecture and classrooms to show a different, more detailed view of the school. Photograph practices, outdoor events and the building at sunrise and sunset.
Take self-portraits. Have students turn the camera around on themselves. Encourage them to use various types of lighting and tripods for set-up. Consider also creating self-portraits that don't show faces.
Teach shutter speeds with water balloons. Have students test high shutter speeds (try 1/1000th and higher) while bursting water balloons. It's a messy, fun project that produces stunning images.
Create cool projects. Bring in items for macro and food photography and use white foam core to create a mini-studio backdrop. Take pictures out in nature of objects in the shape of letters, making a set of 26 alphabetic images. Set up an entire landscape to photograph a staple city or a food map of the world.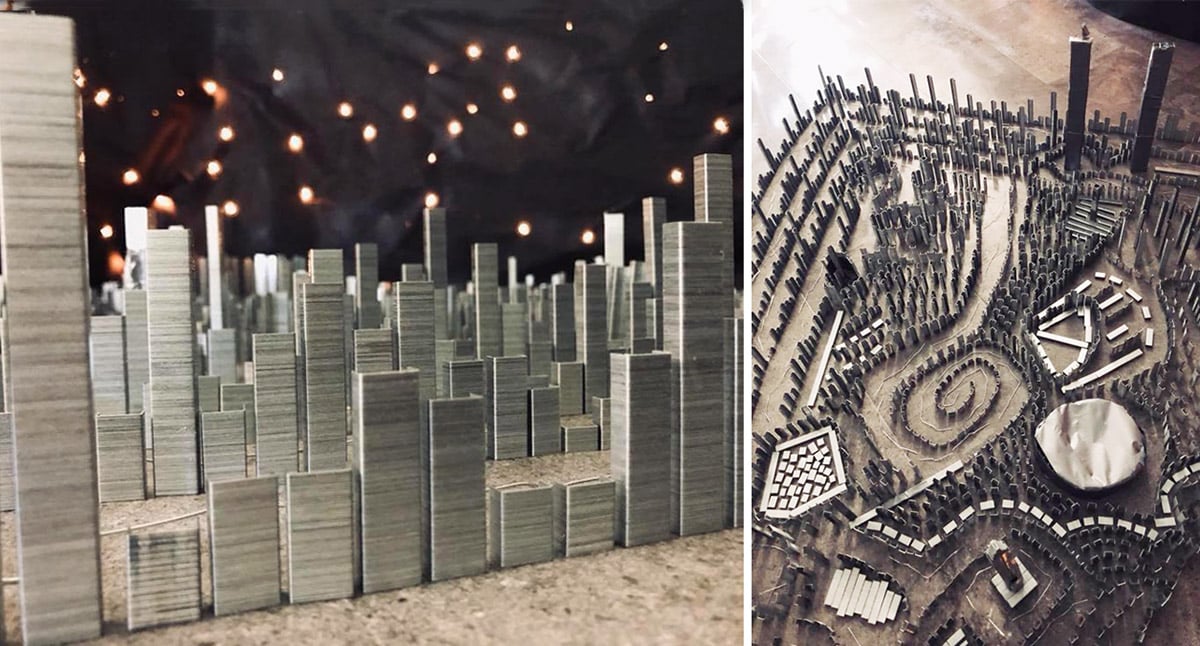 Students at Paetow High School created an entire city out of staples to photograph. The project, which depicts New York City before 9-11, took several weeks and cost less than $30
.
Photo by Sara Gonzales


Have fun with fonts
Learning about typography can have a dramatic impact on students' understanding of design and theme. Spend a few days or two weeks, focusing on:
History of Typography. There's a host of resources out there which discuss type and how it's developed over thousands of years. YouTube features several typography videos, but a favorite is the History of Typography video.
Type classifications. Learn about the different classifications – serif, sans serif, script, decorative and more. Also, spend time discussing leading, kerning and alignment.
Type notebook. Creating a notebook of examples will help students identify typefaces. Have them create a PowerPoint or better yet, an actual notebook with examples cut out of magazines. A type notebook can take several days to a week to create, helps students appreciate and learn more about typography, and provides a major grade.
Have a font fashion show. Bring the typography to life by having students dress like a font. They might go Western for

Alder Gulch

or space cowboy for Cyberglass. Consider rearranging the room to have a short catwalk; font fashionistas can strut to music reflecting the mood of their chosen font.

Magazine designs can inspire cool ideas for secondary coverage in the yearbook.
Dig into design
Design practice can improve and influence next year's book. It also can provide valuable skills for college and future careers. Consider projects lasting a day or two or several weeks.
Secondary Coverage. Study different types (Q&As, timelines, cutouts with quotes) to learn about additional sidebar possibilities. Create a graphic notebook of ideas from magazines. Encourage staffers to brainstorm ways the ideas could be translated into the next book.
Personal Secondary Coverage. Have staffers create personal sidebars as a way to practice their design, writing and photography skills. They could cut out photos, answer Q&As or write mini-feature stories about themselves. The final packages could be shared with the class for analysis, discussion and grading. As a bonus, staffers will learn new things about their classmates.
Magazine Inspiration. Use magazines to inspire sidebars in next year's book. Require students to show the original example and how it inspired their new design. The best secondary coverage examples could be featured in the book.
Magazine Design. Another option for practicing and improving design skills is to have students recreate magazine spreads. Allow students to choose a spread they like and spend time recreating it, matching colors, graphics and typography. They could substitute new photos, but keep the design the same. The practice helps staffers learn firsthand about points and picas, spacing, placement and graphics.
Still have time on your hands?
If you still have time before school ends, here are a few more suggestions:
Archive photos and pages

Alphabetize other schools' books in the room

Clean and organize the room

Recruit more staffers

Hold a meet-and-greet for new staff

Design business ads to use for presentations to potential customers

Create resumes and portfolios

Prepare entries for state and national journalism contests

Write thank you notes

Watch journalism movies and documentaries
That's it! If there's any time left, enjoy it with your students. You deserve a break.